In True Love (Nantucket Brides Trilogy #1) by Jude Deveraux, Alix Madsen has fond memories of her summer on Nantucket when she was just four years old. Now twenty-six and transitioning from being a college graduate into the beginnings of a career in architecture, she finds out that she has the opportunity to spend a year back in the old Kingsley house. Alix still isn't sure how she was chosen to watch over the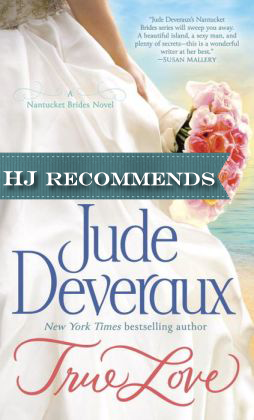 historical home, but remembers her close bond with "Aunt" Addy years ago. She's hoping that this time away to work on her designs will also take her mind off her breakup with boyfriend Eric. Little does Alix know when she steps onto the island, that she will soon come face-to-face with her architectural hero (and her fantasy guy) Jared Montgomery.
'She'd had all she could take of this man looking at her with lust one second and turning away the next.'
Nantucket is Jared Montgomery Kingsley's real home and the only place he can truly be himself. His business office in NYC is, yes, full of creativity, but is also a source of stress. The last thing Jared wanted to do was to babysit a starry eyed grad with hundreds of questions for him. So, he keeps his true identity a secret. Or so he thinks. Soon he realizes that Alix knows full well who he is, but she doesn't know the ties she has to Jared's family and the past that no one mentions off the island. He knows that she can see/sense his grandfather's ghost and that makes him nervous as to what that means for everyone. But the biggest problem is Jared's promise to two people who turned his life around when he was a teenager. They have made it clear that he is to stay away from Alix. And that may be the one promise he can't keep.
"Did Granddad scare you?"
"No. Not at the time. We danced and flirted outrageously. I didn't mean to, but he was, well, rather persuasive."
"I'm jealous and my rival is a two-hundred-year-old ghost. How do I compete with that?"
True Love is a sweeping contemporary romance that is full of history, secrets, and the undeniable power of love. Get ready for an island adventure like no other.
Based around Jude Deveraux's long-running Montgomery/Taggart historical romance series, this 2013 novel is the beginning of a trilogy following the same family in modern times. There is still a very strong historical thread that runs through the plot, with Alix searching for the truth behind Valentina's disappearance and how her own family fits into the story. Now, I must say, there are a LOT of characters, which can be a tad confusing at times (and tough to keep straight). But the farther into the book I read, the more everything fell into place and the more I fell in love with the characters.
I wasn't so sure about Jared at first. He came across as extremely secretive and arrogant. This was another case where, as I learned more about his past and who he was trying to protect, I softened up towards him. He turned out to be a very caring, genuinely nice guy and one who seemed tailor made for Alix. I did love their relationship once they finally gave in to their feelings. It was a slow burn romance, for sure. They had such a wonderfully dry sense of humor they shared, which was a joy to read. The dialogue was such that the reader has to pay a bit of attention, otherwise you might not catch that Jared and Alix were teasing and joking, not arguing. Their scenes together were a lot of fun, befitting their personalities. I also liked watching Alix grow from a new college grad who is faced with her hero, into an adult striving to prove herself worthy of love and to have a chance at a rewarding career.
This may not be the story for everyone where it is a very intricate, historically based novel set on an island in which there was no privacy but had an abundance of secrets. It was not always a fast moving plot, where there were a lot of details needed to make the story come together. But this is a sweeping romance that showcases a love that has stayed true for over the past two hundred years, and in my mind, that makes all four-hundred-and-sixty-four pages more than worth the time. As is the HEA ending that was simply swoon-worthy!
I think you'll like True Love if you enjoy a mix of modern with historical, a plot full of complex family ties, and a lasting love that transcends time and space. Truly magical.
Book Info:

Published July 9th 2013 by Ballantine Books | True Love by Jude Deveraux
Jude Deveraux, the New York Times bestselling author of unforgettable romance, returns with a breathtaking first book in a fantastic new series—the Nantucket Brides trilogy. Set on the magical Massachusetts island, True Love introduces characters from a new generation of Montgomery-Taggerts, the beloved family from Deveraux's classic novels.
Just as Alix Madsen is finishing up architectural school, Adelaide Kingsley dies and wills her, for one year, the use of a charming nineteenth-century Nantucket house. The elderly woman's relationship to the Madsen family is a mystery to the spirited Alix—fresh from a romantic breakup—but for reasons of her own Alix accepts the quirky bequest, in part because it gives her time to plan her best friend's storybook wedding.
But unseen forces move behind the scenes, creaking Kingsley House's ancient floorboards. It seems that Adelaide Kingsley had a rather specific task for Alix: to solve the strange disappearance of one of the Kingsley women, Valentina, more than two hundred years ago. If that wasn't troubling enough, Alix must deal with the arrogant (and extremely good-looking) architect Jared Montgomery, who is living in the property's guesthouse.
Unbeknown to Alix, Jared has been charged with looking after her while she lives on the island—an easy task for him, considering the undeniable chemistry between the two. But Jared harbors secrets of his own, which, if revealed, may drive a wedge between the pair.
With a glorious Nantucket wedding on the horizon, sparks fly, and the ghosts of the past begin to reveal themselves—some of them literally. Finding their lives inextricably entwined with the turbulent fortunes of their ancestors, Alix and Jared discover that only by righting the wrongs of the past can they hope to be together.