Kinkaid (Bad Boys of Retribution MC #2) by Rie Warren: I was hooked on the Bad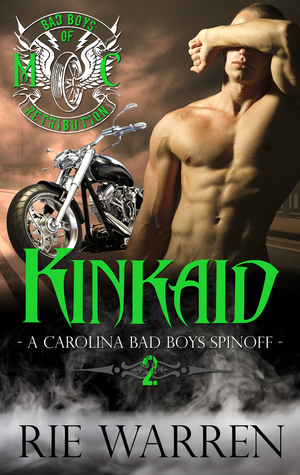 Boys of Retribution MC after reading Hunters book, but I was blown away after reading Kinkaid. I love a hero that is tough, but has a soft side. One that is caring and loving and stands up for his friends and family. That is what we get in Kinkaid.
Kinkaid was raised by his grandfather from the time he was in diapers. He is tough, it is strong and he will do whatever it takes to pay the bills and take care of his ailing grandfather, even work as a dancer in a gentlemans club and that is the one thing he can never tell his best friend Sadie, or the guys at Retribution MC. Not that he is ashamed of how he pays the bills, but he is afraid that they will not understand and throw him out.
To his surprise, the night Sadie shows up with a group of friends, his cover is blown and his is forced to give her a lap dance. It is then that all of the brotherly feelings that he thought he had for Sadie fly right out the window.
Sadie has been in love with Kinkaid since they were kids, but he never looked at her as anything more then a best friend, a little sister, a buddy and pal. Now when Kinkaid starts looking at her as more than a friend, and the sparks start to fly, they decide to throw caution to the wind and see where this might go.
What I loved about Kinkaid is how he takes such good care of his grandfather, he includes him in everything that he does. Does not try to hold him back and makes sure that he has what he needs. I love how protective his is of Sadie as well. The things he does for her, the places that he takes her because he knows that she will enjoy it was touching. The way that Sadie stood by Kinkaid when he really needed her, despite their misunderstandings and arguments was so touching. The way that MC group rallied around Kinkaid and Sadie just proved what a great group of guys that they really are.
I look forward to reading the next installment of the Bad Boys of Retribution MC.
Book Info:

Publication: June 22nd 2015 | Rie Warren | Bad Boys of Retribution MC #2
From the world of Carolina Bad Boys and Retribution MC, a steamy New Adult standalone novella . . . Magic Mike XXL ain't got nothin' on Kinky Kinkaid.
Kinkaid:
Bonafide pussy magnet. Kinky Kaid I wanna get laid. Yeah, I've been called that shit and more. It comes with the territory. See, I'm a male stripper. I shake my moneymaker so I can pay the bills and take care of my people.
I'm also a hardcore, hell-bent biker dude, the newest prospect at Retribution MC. Probie 2.0, and they can never find out how I earn my living. Women love me. They toss their panties at me. They push hundred dollar bills into my G-string. I'm down and dirty and the honeys dig it. All but one.
There's this girl, Sadie. She's beautiful and funny and kickass with some major ink. I'd never make a move on her because she's my best friend.
Sadie:
Best friend? Bullshit. Kinkaid treats me like I'm his kid sister. I'm the hell-raiser, the tomboy dirt biker, his late night call but never like that. He thinks he's safe from me. I'm going to prove him wrong. I'll make him see me as a woman one way or the other.
When I find out what Kinkaid's been hiding there's hell to pay. Except then he gives me a lap dance. A hot, wicked, panty-melting lap dance. A lap dance that unleashes our intense desire, fresh jealousy, distrust and anger.
Everything changes after that, and not for the better. I love him. I hate him. I can't lose him. Sometimes I can't stand him. He's hot as sin on a sultry lowcountry night, and he's still my best friend.
I don't know if he's man enough to give me what I need.
Warning: Graphic sex, graphic action, graphic language. Triple X caution.