In Texas Rebels: Quincy by Linda Warren, Quincy Rebel is the peacemaker of the family.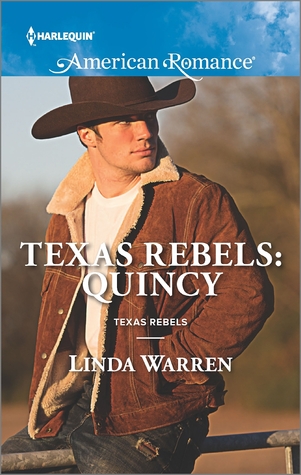 Everyone turns to him and depends on him, which is why he decides to keep his feelings for his brother Paxton's ex-girlfriend a secret.
Jenny Walker was hurt to find out Paxton was engaged to another woman only seven weeks after they had broken up, and after he claimed he never wanted to get married. Stunned, she turned to Quincy, the man who had always been there for her when Paxton wasn't. Quincy, not knowing what to do, pushes Jenny away. She decides to completely cut herself off from the Rebel family, despite the fact she had grown up with them and considered them to be her family, too.
Quincy was between a rock and a hard place. He wanted Jenny, but he didn't want to upset his brother. The rest of his family, who had realized his feelings that he thought he had hidden well, tried to get him to go after Jenny. He had always done so much for them so they just wanted to see him happy. When he finally decides to start a relationship with her, he can't help but wonder if she'll take Paxton back when word gets out he's having problems with his new fiancée, since that's the way it had always been between them.
I admire Jenny for confronting Paxton at his engagement party, but at the same time she was somewhat a weak character. They were together for fifteen years but he wouldn't commit to her. She knew he was cheating on her while he was out on the rodeo circuit but she always forgave him and took him back. It clearly wasn't a good relationship and she should have ended it sooner than she had. Also, Paxton kept calling her, not knowing she was now with his brother. Instead of ignoring the phone calls she would take them, which provided him false hope that she would be waiting for him when he returned.
Overall I enjoyed this book. The characters were likeable–with the exception of Paxton, who I found to be irritating and selfish–and the story was well-written. It was clear to see how much the family cared about one another and how they just wanted each other to be happy.
While this book is not listed as being a part of a series, there are two other books that have been released featuring two of Quincy's other brothers. This book is a stand alone though; it's not necessary to have read the other two in order to enjoy this one.
If you like books about ranchers, or a woman having to choose between two brothers, then Texas Rebels: Quincy may be a book for you.
Book Info:

Publication: December 1, 2015 | Harlequin American |
Quincy Rebel lives by a strict code of honor. Family first. Which means Jenny Rose Walker, his younger brother's ex-girlfriend, will never know how deeply and devotedly he loves her. The woman of his dreams is off-limits…until his brother gets engaged to someone else.
Jenny is ready to sever all ties with the ranching clan who has been like a second family to her. Even if it means giving up working with her best friend, Quincy, who she helps train paint horses. Quincy…the tall, masculine Rebel who's always been there for her. Is she developing feelings for him? Or are they headed for a rebound romance that will leave them both brokenhearted?