In Kiss Me (Fool's Gold #17) by Susan Mallery, After a rather tough childhood, you would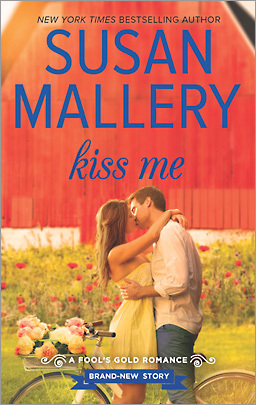 think Phoebe Kitzke would be bitter and closed off. But the opposite is true. She'd gladly give the shirt off her back to a person in need. And now it's gotten her in trouble at work. Covering for her boss lands Phoebe suspended for a month, just in time to help her best friend Maya's brothers at the family ranch in Fool's Gold. Going on a cattle drive doesn't necessarily sound like fun, but once Phoebe gets a look at cowboy Zane Nicholson she can't think of anywhere else she'd rather be. Maybe even for the rest of her life.
'Lips on lips. Hot and yielding. She waited for him to deepen the kiss, but he didn't. And she couldn't summon the courage to do it herself. Finally, he drew back and rested his forehead against hers for a long moment.
"Do me a favor," he said. "Try to be a little more resistible. I don't think I can take a week of this."
Zane is so mad at his younger brother Chase that he could strangle him. The teenager made a huge blunder on the internet and somehow they now have to cater to tourists by taking them on a cattle drive. He can use all the help he can get but the beautiful-yet-ditzy woman his sister sends to the ranch has no experience with animals. What Phoebe is capable of, is taking Zane's breath away with her positive attitude and charming way with everyone. Including all the animals. He's never aspired to fall in love and knows he's better off alone. But Zane might not be able to let go of Phoebe at the end of their week together.
'Would she enjoy his world or would the wide open spaces wear on her? He had the feeling she would hold genealogy classes for the goats and self-actualization classes for the steers. She would make him crazy, and she would make him laugh. She would love him.'
Oh, that Susan Mallery. Just when I think she couldn't possibly top her other Fool's Gold romances, she introduces us to two new worthy souls who are just meant to be together. Loved it!
I'll just start off saying that Phoebe and Zane are my favorite new opposites-attract couple. They were such yin and yang in terms of personality that it made for some very funny moments as well as some explosively hot chemistry. *fans face* Zane was such a badass cowboy-type who held his feelings in and almost never smiled. He had his reasons, mainly his relationship (or lack thereof) with his father growing up, but he was trying to do right by his younger brother Chase. And Phoebe was such a generous, giving woman who placed the needs of others before her own. She may have come across as a little quirky, but she was just what Zane needed!
I loved watching the way Zane and Chase evolved and finally began to understand each other. Of course, Chase being seventeen presented all the normal growing pains of not quite being an adult, but not wanting to be treated like a kid, so poor Zane was alone dealing with that. Chase was a really charming, nice young guy with good intentions but didn't always think things through. That's when Phoebe, being a fairly objective person, was able to step in and help. I enjoyed her 'sisterly-type' moments with Chase while they were out on the range, but it was the fireworks between her and Zane that really stole the show.
Let's not forget the rest of the folks on the cattle drive. There was a touching sub-story going on with couple C.J. and Thad, who desperately wanted children and were having difficulty conceiving. Their journey with the two foster children they brought along on the trip was every bit as heartening as Phoebe and Zane's romance. And…for longtime fans of this series, none other than Eddie and Gladys were also participants on the cattle drive. Yep. You can imagine how hard they tried to get Zane and his fellow cowboys to take their shirts off and show some skin. You gotta love those two ladies. (I kinda want to be them when I'm their age!)
Even if you've never picked up a Fool's Gold book before, I think Kiss Me will resonate with fans of contemporary romance. Especially if you have a thing for cowboys with hearts of gold. *dreamy sigh*
Book Info:

Publication: June 30th 2015 | by HQN Books | Fool's Gold #17
New York Times bestselling author Susan Mallery creates the small-town destination for romance in charming Fool's Gold, California—where a loner cowboy finds the one woman who can capture his heart…
After Phoebe Kitzke's kind heart gets her suspended from her job in LA, she swears off doing favors—until her best friend begs for help on the family ranch in Fool's Gold. Unfortunately, sexy cowboy Zane Nicholson isn't exactly thrilled by the city girl's arrival.
Thanks to his brother's latest scheme, Zane has been roped into taking tourists on a cattle drive. What Phoebe knows about ranching wouldn't fill his hat, but her laughter is so captivating that even his animals fall for her. One slip of his legendary control leads to a passionate kiss, but she's exactly the kind of woman a single-minded loner needs to avoid.
In his arms, Phoebe discovers she's a country girl at heart. Yet no matter how much the small town feels like home, she can't stay unless Zane loves her, too…but is this cowboy interested in forever?