In Kissing the Maid of Honor by Robin Bielman, Sela Sullivan has never forgiven Luke Watters, her best friend's brother, for humiliating her in high school at a kissing booth. A few words that tore her apart on the inside, destroyed her reputation and made her the joke of the entire school for the rest of high school. Even now she is still afraid that his words had some truth to them after so many years.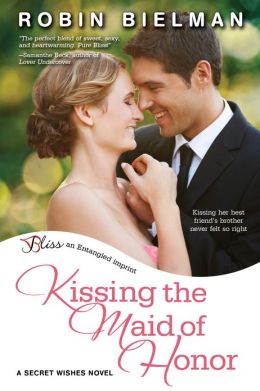 Luke never thought that his words could've hurt Sela as bad as hey did. He knows that he still owes her an apology for them, but he is afraid to admit that his words were a defense mechanism for the best kiss he ever had and a reaction that her brother and his best friend would not approve of.
Now Sela is the maid of honor for her best friend, and knows that she will have to face Luke again, she just wishes that she can stay as far away from him as possible for the duration. Her best bet is to go to the wishing well hoping that Luke will only arrive for the wedding itself and that they will not have to interact at all.
To her surprise and disappointment, he arrives a few weeks early and he is now the best man, which means that they will have to be together more than she wishes. But as she learns that he is there to recuperate from injuries that almost killed him she tries to help him, something that will not be easy with him hiding his accident from his family.
As they become closer Luke and Sela will have to learn to forgive the mistakes of the past, but they will also have to learn to trust if they are to have a chance at having a future together. But with their respective siblings not exactly approving of their union they will have a fun challenge ahead.
If you like a fun, sweet and entertaining romance that will keep you hooked until the very end, Kissing the Maid of Honor by Robin Bielman is the one for you.
Book Info: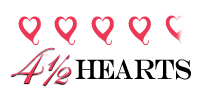 Publisher: Entangled: Bliss (May 13, 2013)
Kissing her best friend's brother never felt so right…
Sela Sullivan is resolved to be the best maid of honor ever, even if it means tolerating the best man. Insufferable, too-handsome Luke Watters is not only the guy who humiliated her at a kissing booth in high school, but he also happens to be her best friend's older brother. Positive he's the same arrogant jock, Sela vows to focus on her duties and steer clear of the frustrating—and frustratingly tempting—Luke.
As a world-renowned extreme-sports photographer, Luke is used to undertaking life-risking adventures. But risking his heart for the beautiful Sela Sullivan, who clearly still hates him for his rejection all those years ago? He didn't see that coming. Sela inspires a passion he's never known, and the more time they spend together, the more he craves her. But can he prove to the maid of honor he's become a man of honor?