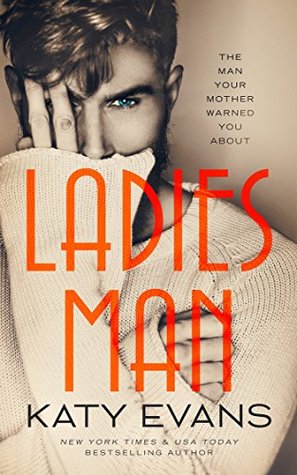 In Ladies Man (Manwhore #3) by Katy Evans, After being burned in her first adult relationship by a man who was nothing but a lowly cheater, Gina is holding out for the real deal. Since she was fooled by believing he meant those three little words that should mean everything, she now knows actions speak louder than words. And every action her friend businessman Tahoe Roth makes rattles her completely. Known as an unabashed womanizer, known to her as T-Rex for his hulking frame and beastly Viking good looks, Gina shouldn't let her attraction for him get under her skin. But she simply can't help it.
"Your curves are succulent. A guy could play with those for hours."
A sky full of butterflies bursts inside my stomach, and I feel myself heat up.
"Shut up," I whisper, nudging him with a scowl, unable to look into his eyes. "Everyone and everything is succulent for a T-Rex."
His eyes become hooded. "Not this one," he says.
Gina's learned to hide behind her mask of flawless makeup and attitude to cover up how deeply her ex hurt her. And Tahoe seems to see right through to those hidden secrets. But she knows he's hiding his own pain behind the long line of broken hearts he's left in his wake. She knows they are probably all wrong for each other: he's a billionaire and she's a makeup expert in a department store. Yet they have an undeniable connection that it seems no one else can fill. Gina's afraid Tahoe has the ability to break her heart in two…but who's to say he might not be just the guy to heal her heart instead?
"No one is the way they seem. We all hide little pieces, either because we don't want to be judged, or because we don't think we'll be understood, or simply because we don't want those pieces of us to belong to anyone but us."
I was pleasantly surprised by how much I ended up liking Tahoe Roth. Ladies Man proved to me why it's always best to not judge a person by the mask they wear. Because in the case of both Gina and Tahoe, the truth can be totally different than what you were expecting.
'I want his lips. I want his hands all over me. I want his heart. His wounded beautiful heart he's put on a shelf where nobody can reach it.'
Told exclusively from Gina's POV, I was excited to finally get to know her more after 'meeting' her as Rachel's BFF in the prior Manwhore books. She seemed supportive, loyal, fashionable and just a really great person all-around. Gina turned out to be that and more. I knew she had a tough time with the fallout from her boyfriend cheating on her, but seeing her put on her 'mask' of makeup everyday and not trust in love was so sad. My heart broke for her. I wasn't convinced her feelings for Tahoe were a good idea until further into the story when it seemed he was reciprocating in his own way. But once they *finally* found their way together, it was absolutely fantastic to see Gina that adored and happy.
Seeing Tahoe's actions in the previous installments made me skeptical that he would win me over. But Katy Evans did it again. She made me fall for another alpha guy with a reputation that preceded him. I can see why Gina had no chance. Underneath all the womanizing and sexy innuendos, Tahoe was a loyal, kindhearted guy with a wonderful heart. Who, as Gina pointed out, also happened to look like a gorgeous 'beastly Viking'. And even though I didn't like how he seemed to flaunt his promiscuous ways after he was first attracted to Gina, we did find out the heartbreaking reason why Tahoe acted in such a manner.
Katy Evans writes captivating characters and emotionally-tangled plots that are simply a joy to read. And Gina and Tahoe's sultry dance around each other as the tension between them grew was incredibly fun to witness. I cannot wait for Callan's turn next.
Book Info:

 Published April 26th 2016 | by KT Publishing LLC | Manwhore #3
TAHOE ROTH.
Irreverent, cocky, playful and naughty.
He's not the guy you date.
He's the one night stand.
The one your mother warned you about.
The one your body craves.
You'd think the man who called me succulent would want to strip me down and spread me out on his bed—like he's done with countless others.
But he passed on my offer….
Just like I'd once passed on his.
He's wary, like I am.
He's broken, like I am.
And everyone knows two broken parts can't ever make a whole.
Tahoe and I are strictly friends.
So I distract myself with other men.
He doesn't think my new man is good enough. This blond blue-eyed beast doesn't think any man is—himself included.
But the more time we spend together, the more confused I feel.
I'm trying to open myself to love.
Yet I'm quickly realizing that the only man I want is Tahoe Roth.
The one man who will surely break my heart.
A sexy new standalone contemporary romance from New York Times and USA Today bestselling author Katy Evans. Although part of the Manwhore series, this book can be read as standalone.