Last Chance Hero (Last Chance #9) by Hope Ramsay: What I love about the Last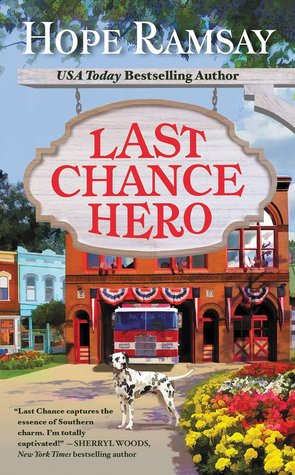 Chance series is that it doesn't really matter what order you read the series in, you are never lost. I have read a number of books in this series and of course, none of them in order. There is something magical about the little town of Last Chance. Stepping through the cover of the pages is like coming home to visit old friends. This is the story of Ross and Sabina.
Ross has been in love with Sabina since he was 13 years old. The shy boy, never part of the popular crowd, he knew he never stood a chance with the pretty cheerleader. Years later and back in Last Chance, Ross is the Fire Chief and local hero. He had asked Sabina out a number of times, but each time she was busy, made an excuse and eventually pushed him toward her little sister Lucy. After the local matchmaker makes a prediction that Lucy needs to settle down in order to allow Sabina to find her HEA, the entire town is out for Lucy and Ross to tie the knot.
Seventeen years ago, a fire that destroyed Sabina's family home and left her baby sister scarred, Sabina changed her life and dedicated herself to helping everyone, and making it up to the sister that she should have been home to take care of that night. She will do anything for her sister, even give up the chance to be with Ross, the man who sets her on fire with one touch, one look, on kiss.
An old school friend, an ATF agent, and a string of arson fires, all of which point to Lucy and Ross has the little town of Last Chance on edge, and it will take a meddling town to get Lucy, Sabina and Ross straightened out before the chance for a HEA goes up in a plume of smoke.
I loved Ross and Sabina. They both were in love with each other, it was obvious to anyone that would look at them, but Ross was too much of a gentleman and Sabina loved her sister too much for either of them to make a move on each other. There is a secondary story line and don't worry both sisters in the end get their HEA, which makes this story a bonus in my book.
I love visiting Last Chance and getting to revisit old friends, funny situations, the magic and the mystery that always seems to find their way into these wonderful stories.
Book Info:

Publication: June 30th 2015 | Forever | Last Chance #9
Ross Gardiner has had his fill of difficult relationships. Returning to Last Chance after a rough divorce, the town's handsome new fire chief just wants safety and stability-a tall order given his dangerous job and the way he has the attention of all the single women in town. All except Sabina Grey, the girl who stole his heart when they were teenagers.
Sabina knows a lot about playing it safe. Always the good girl, she's now responsible for her antiques store and caring for her sister. But having Ross in town brings back the memory of one carefree summer night when she threw caution to the wind-and almost destroyed her family. Now that they are both older and wiser, will the spark still be there, even though they've both been burned?