Lead Me On by Crystal Green: It all started with a video and a frat party. Margot Walker finally decided to hook up with good-looking, man about campus, Clint Barrows. At the time, they both felt a little spark for each other and when Clint invited Margot up to his room to watch a movie, she said yes. Unbeknownst to the both of them, a fellow frat brother rigged a camera in Clint's room and recorded their make-out session. The following day the video went viral on YouTube. Margot was humiliated and never forgave Clint, even though he swore he knew nothing about it. Clint eventually found out who planted the camera and thought he made sure the video was destroyed.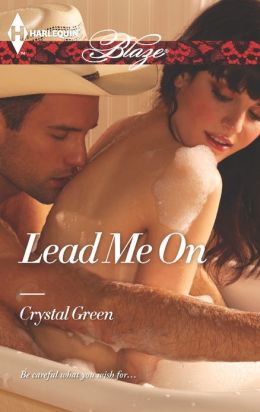 Ten years later, the video surprisingly resurfaced again on YouTube, the night of the Phi Rho Mu fraternity and Tau Epsilon Gamma sorority 10 year reunion. Margot was humiliated once again and her anger toward Clint was reignited. Although this time the teasing and embarrassment wasn't as severe, because Clint was able to get it removed permanently and quickly.
Sorority sisters, Margot, Leigh and Dani have remained best friends since college. The girls speak to and see each other semi-regularly. Margot majored in English, is single, and is a successful travel writer that has recently lost her edge. Leigh and Dani both majored in home economics. Leigh is single and her career is taking off as host of a cooking TV show. Dani is a wonderful cook, works for a caterer and is engaged to Riley, a fraternity brother.
Dani has always talked about a big and elegant wedding. Unfortunately, she and Riley cannot afford the wedding Dani has always dreamed about. So her two best friends decide to host a bridal basket auction during the reunion weekend with the proceeds going to the happy couple. As much as Dani loves her friends, she is not a charity case and the auction goes on as planned with the proceeds going to charity. Margot's basket donation is bought by Clint and begrudgingly, Margot has to have a date with him. Leigh's basket fetches the highest amount from a mystery fraternity brother. She has to wait a month for her date.
The spark between Margot and Clint is rekindled and they spend a hot, sex-filled night together. Both of them can't stop thinking about each other. A week later, they meet again at Clint's ranch. Clint has generously offered to host Dani and Riley's wedding and Dani wants both Margot and Leigh to check it out with her. Leigh can't make it, so now its a foursome for the weekend.
The happily engaged couple is experiencing some difficulties so Margot and Clint end up spending a lot of time together. They end up hooking up again. Their feelings for each other are strong and love is in the air.
Because Margot has always been afraid of any type of commitment, hence her job as a travel writer, she leaves after the weekend without even saying goodbye to Clint. She just leaves a note in front of his bedroom door. Clint is crushed, but had a feeling this was going to happen. He trudges on with his daily life, worrying about the ranch and the fact that his twin brothers want him to sell off pieces of it. Margot is finally in love and realizes that deserting Clint was a horrible mistake.
Dani and Riley work out their differences by adding spontaneity into their lives. Luckily Margot comes to her senses and returns to Clint's ranch. The rest as they say is history…..
Lead Me On by Crystal Green is a nicely written second chance romance. The characters are full of spunk and personality. This is a quick read that is perfect for the summer!
Book Info
Publication Date: June 18, 2013 | Series: Harlequin Blaze (Book 756)
It's a Bridal Basket Auction! Bachelors, bid now and win a night you will never forget… Basket # 1: "Around the Girl in 80 Ways"Forget baked goods and innocent picnics—Margot Walker's "anonymous" basket is all about risqué and reward! Eighty pieces of paper are tucked inside, each listing a different destination. And each destination is an erotic promise….Of course, you'll be betting against cowboy Clint Barrows (whom the ladies consider to be walking sex in a Stetson). Clint knows Margot is the one who got away, and he's determined to find out exactly what is in her basket…and meet each naughty adventure with one of his own!