In Leave Me Breathless by Jodi Ellen Malpas, Home. That's all that's on Ryan Willis's mind when he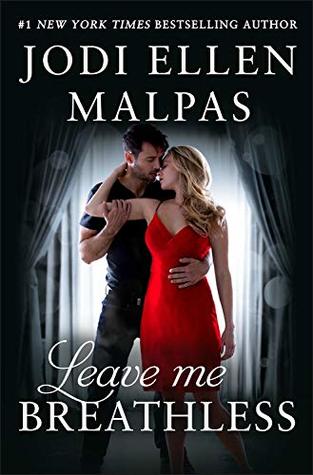 finishes a job in London after a close brush with danger. Not that it's unusual to have his life hanging in the balance in his line of work, first as MI5 and now in protection for a private firm. But quiet time at his cottage in the village Ryan calls home will surely soothe his soul. He was on the right track until he ran into gorgeous Hannah Bright. Literally. From the moment his truck and her bike collided, he was completely taken with her. The last thing Ryan expected was to fall in love, although Hannah is everything he could ever want. He's pretty sure she's not telling the truth about her past, though. And that could spell trouble. One thing Ryan knows is that he will do anything in his power to protect the pretty painter who stole his heart–whether that puts him in danger or not.
'This exquisite, sweet woman in my arms, no matter how happy she looks in this moment, is carrying pain… I hope she lets me ease that pain. Maybe I already am.'
Hannah's unfortunate past is something she tries to push to the back of her mind, instead concentrating on finding some sense of peace with her cute little store in a town that's becoming home to her. She's even painting again. Something that once helped make Hannah's days brighter. Then something–or more to the point, some*one*–begins to brighten her days after her run-in with darkly handsome Ryan. She has no business getting involved with a man. Not with the secrets she's keeping. But Hannah is overwhelmed by the force of her feelings for Ryan. And they are soon too wrapped up in each other to notice the odd things happening here and there in her daily life that just might mean Hannah's past is creeping up on her.
'This is the man I was always supposed to be with.
And now I fear I've found him too late.'
A dreamy hero. A free-spirited heroine running from a dark past. Secrets, passionate romance and delicious temptation. Oh my goodness, did Leave Me Breathless sweep me right off my feet, thanks to Jodi Ellen Malpas' emotionally-driven writing.
"I'll never regret anything where you're concerned."
Her lip wobbles. "Promise me," she orders…
"I promise you." I whisper my vow into her mouth and pray it reaches her heart, her soul, and deep into her mind.
Because never before have I said something and meant it so much.
I have such a terrific time reading anything by Malpas. Her characters are offbeat enough to feel genuine and the delicately twisting plots catch my attention every time. But honestly, Leave Me Breathless was fresh and quite unique–even though it was set in the same world and had some of the same people as were in The Protector. I honestly did love the characters here. Well, aside from the antagonist, of course! Ryan and Hannah were the showstoppers, but the entire town this was set in was full of lively, utterly charming people who I'd be glad to call my neighbors. Although I think my favorite–sorry Hannah and Ryan–was Alex. A ten-year-old dynamo full of awesomeness who I really, really hope will get her own story sometime in the (near) future.
Ryan and Hannah were an adorable couple. I was captivated by their sense of playfulness and the strength of the bond they developed over a short amount of time. We've all heard of meet-cutes, but Hannah and Ryan basically had a meet-disaster when he kind of ran her over with his truck. But it all worked out okay, so don't worry. (lol) It even ended up bringing them closer in the long run.
I thought Hannah was simply lovely and down to earth with her creative, seemingly carefree outlook on life. She'd been through a lot. And that past was still catching up to her. It seemed like Hannah's unfettered persona brought out the inner goofball in Ryan, though, much to her delight. He might have looked all broody, harsh, and like he could kill you in a dozen ways without blinking–he *was* former MI5, after all–but he was fun, oh so sexy, and loving. I think that's why I rooted Hannah and Ryan on from the very start. They were *good*, kind, steadfast people who deserved everything wonderful in life. Sigh…
With a cast you can't help but adore, a charming small-village setting, and an engrossing thread of suspense, Leave Me Breathless had everything I love about Jodi Ellen Malpas' work all in one place.

Book Info:

Publication: Published November 5th 2019 | Forever |
From the #1 New York Times bestselling author of the This Man series comes a sexy and emotional follow up to her wildly popular standalone romance The Protector.
Ryan Willis has spent years in the protection business, a job that requires constant vigilance and quick thinking. His only chance to truly relax is at his secluded cabin in a small town where there are never any surprises. So when Ryan returns after an assignment and encounters a beautiful stranger, he isn't only surprised, he's also instantly intrigued.
Hannah Bright is a breath of fresh air, and Ryan is soon completely consumed, unable to stop from falling for her. As the two grow closer, his instinct tells him something is amiss. Yet nothing could prepare him for what he discovers when he starts digging into her past.
Hannah spends her days painting, running her arts and crafts store…and hiding too many secrets. It's why she won't let the ruggedly handsome bodyguard get too close. But their chemistry is undeniable, and Hannah quickly finds herself caught up in a whirlwind romance with Ryan. He is peace personified, a balm to her battered soul. Yet the gorgeous, captivating man who has swept Hannah off her feet doesn't even know who she really is. And the moment he finds out, both their lives are at risk.