In Sinners are Winners (KPD Motorcycle Patrol #5) by Lani Lynn Vale , Who would have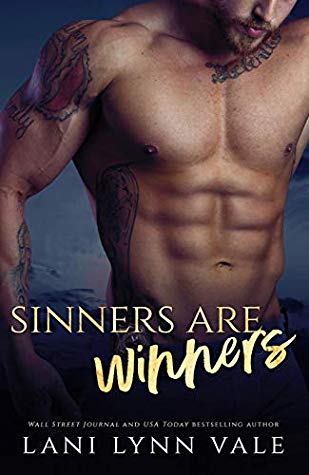 thought that a baseball game could change your life? But that's exactly what happens when Saylor Spada, seriously unhappy on a miserable first date, and cop Lock Downy, at the game with his pouting sister Ares, sit next to each other. And it all goes downhill from there. There's a smoking hot kiss between Saylor and Lock, then a scuffle between Lock and Saylor's date–and even between Saylor and her date. Most of which gets posted on social media, making things crazy for a while. But one more unexpected meeting later on, and the two find themselves lusting after each other with the promise of maybe something more. If they play their cards right. And if Saylor and Lock can find the person making their lives hell so they can put an end to it and get the chance to reach for their HEA.
"You're not following directions really well…"
"Yeah, I've been told that all my life," she whispered. "All I ever heard was 'she's a wild one.'"
Whoever said that about her was goddamn right.
She was a wild one.
And I liked it.
Wickedly hot and sexy, Sinners are Winners was a romance that took instant attraction to a whole new level and added a touch of suspense to keep readers on their toes.
'That was what Lock did to me–made me feel uncontained.
It was a heady feeling, one that I loved.'
I haven't had the pleasure of reading Lani Lynn Vale for a while so it was great to dive into Sinners are Winners. And what a fun time it was! The plot moved along at a good clip and of course there was a bunch of crazy-cool characters as you'd expect from Vale, many from previous installments in the series, and even other series. But this can be read as a standalone as well. I have to say, though, that it was the sizzling chemistry between Lock and Saylor that stole the show.
Saylor and Lock made a ridiculously perfect couple. He was a cop, former military, who was alpha but not overly so. I adored his hilarious family who gave each other a hard time but loved each other just as fiercely. And Saylor, well, she surprised me with her forthrightness and her how hard she worked to keep her independence. Plus I got such a kick out of her parents. Especially how tough Saylor's dad made it for Lock when it was clear that things were getting serious between Lock and Saylor.
The heat level was as intense as I remembered from Vale's previous work *fans face*, but what I really liked was that it fit Lock and Saylor's relationship and their personalities. It was fun, explicit, passionate, tender at times, and almost frenetic in other moments. But there was always the sense that their emotions were involved in it all (even if we didn't get time to delve into their feelings a bit more) right from the beginning. That it wasn't just lust. So when things started going wrong around Saylor and Lock, it felt genuine that with the bond they'd formed already, of course they would band together and try to figure out who was messing with them.
If you're looking for a fast-paced plot that's both exciting and entertaining, I think Sinners are Winners will fit the bill–and it will grab readers' attention from the very first page with our couple's unique meet-cute.
Book Info:

Publication: Published October 8th 2019 | Lani Lynn Vale | KPD Motorcycle Patrol #5
He saw her from across a crowded ballpark and knew she was about to change his life.
Yes, he realizes just how cliché that really is, but the moment his eyes locked on her, he knew that she was the one.
At least, the one that royally screwed him over. The one responsible for his demotion and the subsequent disciplinary action taken against him before he'd even gotten out of the probationary period with Kilgore Police Department.
It all started with a kiss.
***
Saylor Rae Spada tried to mind her business. She also tried to not get involved in petty disputes.
However, from the moment she saw him sitting next to her at a professional baseball game, a game she didn't even want to be at but was dragged to by her blind date, she couldn't look away.
Then the kiss cam came on, featuring none other than her and the handsome stranger.
Without missing a beat, he kissed her.
Then her blind date decided to pull a knife and try to stab him.
From that point forward, she's done nothing but cause him trouble.
Trouble that he's starting to find increasingly adorable.