Put some heat in your holidays with these scorchin'-hot fairy tales from bestselling authors Leslie Kelly and Jennifer LaBrecque
The Prince Who Stole Christmas by Leslie Kelly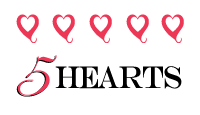 Publisher: Harlequin Blaze (November 13, 2012)
Book Info:
Between her ne'er-do-well brother and her candy shop, Claire Hoffman has her hands full. But when sexy sparks start flying between Claire and her gorgeous but enigmatic tenant "Phil," Claire wonders if all the chocolate has made her a little Christmas crazy. But what will happen to her fantasy when her dishy fling tells her that, er…he's actually a prince?
Review:
I always look for Leslie Kelly for a hot and steamy read and this book didn't let me down.
The Prince Who Stole Christmas has all the steamy elements you expect from her with a fairy tale twist that makes it feel wonderful for the holidays.
Claire has always had to take care of her younger (by 5 years) brother. Now she only wants to have enough success with her candy shop to make a living. But her brother has run into trouble again and wants her to give her money she doesn't have.
Phil is a prince from a land where all fairy tales lives. He has been looking for his true love his entire live but couldn't find her on his land. Now he travels to New York to look for her. And he may have just found her in Claire his new landlord.
This story was sweet and hot, just perfect for the season. For some reason a thought came to my mind while reading: Sugar and Spice and Everything Hot. Maybe you'll agree with me when you read it too. ☺
 [divider_line]
My True Love Gave to Me… by Jennifer LaBrecque
Book Info:
Years ago in the town of Good Riddance, Alaska, Gertie and Knox were best friends—until Knox fell under the "spell" of a rather cold, remote woman. But three years later, Knox and Gertie are reunited at the Chrismoose festival…and all it takes is a snowed-in night in a cabin for Gertie to turn Knox's chill into a red-hot blaze of sexstasy!
Review:
This was a great and emotional read. That brings out the feeling that miracles do happen and that true love always win.
Trudie and Knox have been best friends since they were kids. But after the death of his grandmother Knox puts his current girlfriend over his best friend. Now a year and a half later they reunited at the Chrismoose festival and Knox sees the woman that Trudie has always been and he had been blind to before. But he will have to find a way for her to forgive him for everything he did and said to her before anything permanent can develop between them.
True love is not easy to find and sometimes when it's right under your nose it's even more difficult to see.
This is the case with Trudie. She didn't realize she was in love with her best friend until he wanted to stop seeing her because his girlfriend didn't like her. Now she is still in love with him but she doesn't want to get hurt again.
Forgiveness takes a lot and Knox will have to give everything he didn't want to give before if he really wants his HEA.