In Let Me Be The One (The Sullivans #6) by Bella Andre, When star baseball pitcher Ryan Sullivan got a text asking for help from longtime friend Vicki Bennett, he immediately dropped everything to be by her side. She saved his life as a teenager when an out of control car almost crushed him and they became fast friends that day. From then on, Ryan vowed to be there for Vicki anytime he could.
"One day, when you need me most, I promise I'll be there for you Vicki."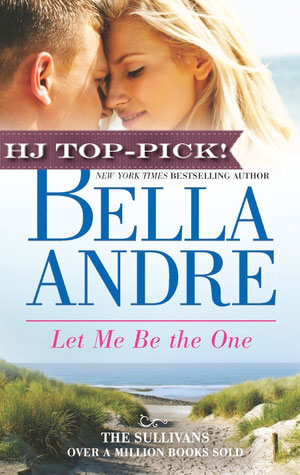 Ryan never felt more free to be himself than when he was near Vicki. She never judged him for wanting to follow his dream of playing baseball. Ryan's feelings for Vicki soon began to turn into something more serious but he never acted on them, as he didn't want to ruin their friendship. Almost fifteen years later, he now has the chance to act as her boyfriend to hopefully stop the unwanted advances of a member of the board critiquing Vicki's sculptures. But Ryan doesn't have to pretend to want to spend time with her or protect her. He's never wanted anything else. Now he must decide if it's worth the cost to finally admit his feelings to her.
"Why don't you just tell her how you feel and that you wish it was all real?"
He'd asked himself that question a thousand times by now, but every time it came down to the same important reason. "I can't risk losing her as a friend by coming on to her."
Vicki has been a struggling sculptor under the thumb of her now ex-husband for over a decade and she's ready to prove to everyone she has what it takes to succeed. When an important member of the board comes on to her while discussing her fellowship chances, Vicki does the only thing she can think of: she contacts Ryan. She hates to ask him to pretend he's her boyfriend, not wanting to inconvenience her friend, but it will only be for a few weeks. Vicki has always had an intense crush on Ryan and it proves to be difficult to push her feelings aside and act like they are just playing a part. Their stolen moments together one explosive evening push them into admitting their real feelings, but is it a good idea to explore the opportunity or will it just sever the friendship they've had for so long?
"You and me, we're about more than great sex."
She licked at his lips. "Of course we are. But the sex is a really fantastic bonus, don't you think?"
He had to kiss her again once, then twice, before saying, "The best bonus in the world."
Let Me Be The One is yet another stellar addition to The Sullivans series. Ryan and Vicki's love story has been fifteen years in the making and it is one of the sweetest most sensual friends-to-lovers romances I have read in a long time.
I could rave all day and all night about the wonder that is Bella Andre's writing. The scenes are always set up perfectly, the pacing of the story is spot on, and the character development is incredible. Every time I start one of her novels, I find it so quick to connect with each of the protagonists and get a real understanding of their situation, how they feel and why they act a particular way. I don't ever feel like the dialogue is forced–it seems to flow naturally. And in Ryan's case, who knew the laid back athlete had such a dirty mouth and like to take command? So. Hot.
Friends-to-lovers is such a wonderful trope to read and it works so well with this plot. I love that underneath all the passion that exists between Vicki and Ryan, they are still able to make each other laugh and they can be completely open and honest. It's a great framework to build a lasting relationship in my opinion. The fact that they cared enough about each other to push their feelings aside for so many years so they didn't ruin their friendship speaks volumes about what kind of people they truly are. Mama Mary Sullivan certainly raised her boys right! And Vicki's strength growing up constantly moving from place to place and then having to deal with her jerk of a husband later on was amazing.
This is the kind of romance where you can't help but cheer for them as they struggle to reach a decision. Ryan and Vicki absolutely deserve to have their own HEA. Their passion is simply palpable and there are some very, very steamy love scenes. Two words for you: shower lovin'. Wow! I thought it was interesting as well how Bella used Vicki being a sculptor to add another sensual layer to the scenes. She uses her hands to create art, so her sense of touch is very important to her. When Vicki gets to touch Ryan's face for the first time and memorizes him with her fingertips…it was so very sweet, but also extremely sexy. *sigh*
If you get a chance to read Let Me Be The One, I hope you enjoy it as much as I did. Ryan and Vicki's genuine friendship is touching all on its own, but it was incredibly satisfying to watch it turn into a hot as sin romance!
Book Info:

Publication: December 31st 2013 by Harlequin MIRA (first published August 28th 2012)
Back in San Francisco preparing for her big art show, Vicki Bennett needs help protecting herself and her career from the unwelcome advances of one of the judges. She knows that her longtime friend and baseball star, Ryan Sullivan, will know just how to handle things, and he's the only person she can imagine asking for help.
Ryan is thrilled to have Vicki back in his life, and he will do anything to protect her from harm, including playing the role of "pretend boyfriend." But when their staged kisses and caresses lead to an incredibly sensual night, they both worry that they may have damaged their friendship forever.
Have they made the worst mistake possible? Or is the perfect combination of friendship and love finally within reach?