In Boss Meets her Match (The Cleaning Crew #3) by Janet Lee Nye, Lena Reyes has worked hard to get to where she is. Her career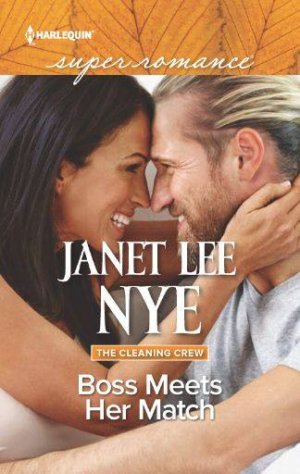 as a financial expert has made her a celebrity in the eyes of people in her community and has her sitting comfortably in the financial sense. She has more than enough money to provide for her family, which she has by everything she's done for them, and now they want to find a way to pay her back. However, their way of helping is to play matchmaker with men that want nothing more than to start a family. Will she finally say something to her family she'll regret, especially if they can never accept Charles 'Matt' Beaumont Matthews V, the man she is beginning to fall in love with?
"Ms. Reyes. What a pleasure."
"Do you try that cheesy white-boy act on all women? Does it work?"
He laughed. "Hey, Mose. Nope. Just Lena because it annoys her."
"Interesting hobby. Much like waving picnic baskets in front of grizzly bears."
"Grizzly bears are less dangerous, I think."
This is the first book I've read by Ms. Nye, and even though this is the third book of her Cleaning Crew series, it can easily be read as a stand-alone. Throughout, this story tackles some tough issues – racism, a family's disapproval of the choices the hero has made in his life and a heroine that has to bite her tongue from saying something she'll regret to her loving family because of their matchmaking. Still, it is a captivating, fast-paced read and the way this story started with the heroine's assessment of everything to do with art and spending time at a Gallery had me laughing at her opinions.
The dialogue was well-written and a wonderful mix of intense, emotional and playful. In the beginning, Lena comes off as a bit of a snob, but considering how she's turned her life around from having nothing to not wanting for anything, I could understand how she'd have such an austere opinion on someone spending so much money on artwork. However, it was the moment that the hero and heroine met that made this story interesting. Matt gets under her skin in a way no man has before with the way he tricks her, and even though she doesn't want to be intrigued by him, she finds it hard to resist him.
The playful banter between Matt and Lena as well as between the main and secondary characters had me laughing all the way throughout. The dates Lena's family sets up for her don't go so well, and I liked Lena's reactions to the moments. What men ask the sorts of questions they do to her on a first date? Then there's the intense and emotional dialogue due to their back stories and the struggles they face on their journey to happy ever after. How can Matt's parents, especially his mother, be so cruel? Lena is strong, brave, faced plenty of struggles growing up and has worked hard to get to where she is in her life. Just because her family doesn't come from old money doesn't mean she should be treated any differently.
While Matt, he was a delightful hero that I instantly liked the moment he entered the story, even though he tricked Lena when they first met. He's the black sheep of his family, and I could understand why after having been introduced to his family. They're not the warm and friendly type towards each other, except for Matt's older sister. They have a great relationship and made me laugh when they were together. Moreover, I enjoyed the bond that formed between Matt and his father, because it shows his father wants to right the wrongs of the past. Also, the hero is kind, caring, and I liked that he follow his passion for art and became an art therapist instead of following the path his parents wanted, because he's done so much to help kids and continues to do so.
"Look at you grinning like the Cheshire Cat."
He caught her hand and brought it to his lips. "You make me smile, Lena."
She wiggled over and propped herself on his chest, looking down at him. "You are an entirely unfair human being, Matt."
"What? How am I unfair?"
"You look like a Viking god come to life. You can cook. You got the skills to match that hound-dog swagger. What's a girl supposed to do with you?"
Overall, Ms. Nye has penned a fantastic read in this book that has me wanting to read the first two books of this series. The strong chemistry between the main characters develops over the story nicely, and even though the sex scenes are more closed door ones, it was wonderful to read how determined these two were to overcome the major obstacle in their relationship. The way this story ended was gratifying, as Matt uses his art skills to show Lena how much he loves her. I would highly recommend Boss Meets her Match by Janet Lee Nye, especially if you enjoy the opposites attract trope, the matchmaking trope or a story that tackles tough issues but where the hero and heroine get their happy ever after regardless of such tough obstacles.

Book Info:

Publication: April 4th, 2017 | Harlequin Superromance | Cleaning Crew #3
She can't fall for a guy like him…
With kick-ass-and-take-names flair, hardworking Lena Reyes has everything a successful woman could want. Well…almost. She's still single, which means her family is practically auditioning guys for Hispanic Bachelor. But none of these guys compare to her newest client: a sexy trust-fund artist who's making Lena crazy in every way possible.
Born into wealth and privilege, Charles "Matt" Beaumont Matthews V is everything Lena isn't. So why does she find him so deliciously irresistible? Now their attraction is breaking all kinds of rules. Worse still, Lena's falling for Matt—hard. He's either the perfect mistake…or her perfect match.