Leveled by Cathryn Fox is book two in the Blue Bay Crew series and is such a fun, and sexy read. With an eye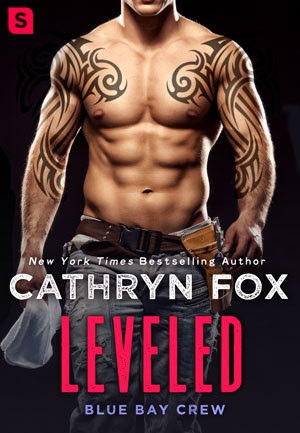 catching cover and heat in every page, Leveled is sure to tempt readers. In fact, this is one of those books, that you'll read more than once!
Jamie Owens avoids rich, pampered women. He was a bit naïve when he was younger, but he learned quickly. See, he hooked up with a rich, daddy's girl only for her to turn on him when her daddy caught them together. After what happened he left Blue Bay, but now he's back to help his brothers with the family construction business.
Kylee Jensen is in her new cottage, the one her daddy bought for her as a bribe. Her father is very controlling and now that she will be working for his firm, he's also trying to dictate who she needs to date. When Kylee realizes that her deck needs to be replaced she tracks down Jamie and his brothers.
Jamie and Kylee are immediately attracted to each other, but Jamie has been burned before and it left him with a hell of a wound and Kylee knows her career doesn't leave time for a relationship, so anytime they spend together is temporary. They embark on a no-strings affair that neither will recover from.
"What are you doing here?" I ask, my voice rough with arousal as her scent fills the place.
"Well I was thinking about our tattoo conversation the other day."
"What about it?"
"I thought you could…" she slides into the chair, opens her legs, and says.
"Ink me."
Jamie and Kylee are hot together. I mean explosive hot! It's got to be a sin to have chemistry like theirs! But what happens when Jamie's past and future collide? Will Kylee take his side or will she do what she always does and obey her father?
I enjoyed both characters immensely. There's more to Jamie and Kylee's relationship then just sex. They establish an emotional connection very quickly and as you turn the pages; you can tell how much these two belong together. Overall, a delightful read filled with heat and passion.
Book Info:

Publication: January 16th 2018 | Swerve | Blue Bay Crew #2
From New York Times and USA Today bestselling author Cathryn Fox comes the scorching Blue Bay Crew series, that follows the sexy, blue collar Owens men who take over their family's construction business in the small town of Blue Bay, CT.
Jamie Owens doesn't trust women. Especially not the rich, entitled women looking for a summer fling with a boy from the wrong side of town. But one look at Kylee Jensen in a tiny bikini, and Jamie decides that some rules are made to be broken.
Kylee is tired of being the obedient daughter, and Jamie—shirtless, in a tool belt—is the perfect opportunity to do something for herself, so she hires Blue Bay Construction to work on her cottage. Their hot summer days turn scorching until it's revealed that Kylee has ties to Jamie's dark past, forcing them to decide if their dreams, and their relationship, are worth fighting for.
Leveled is a steamy page turner with sizzling emotional intensity and an ending that will hammer readers' hearts and never let go!