Unraveled (Whiskey Sharp #1) by Lauren Dane is an amazing start to what is going to be a really great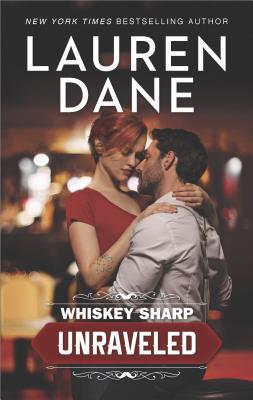 series. I loved the setting of this book. A barbershop/bar how cool is that. This story has a lot of information and the characters are so well developed that I felt like I was actually part of the family, part of the drama. At times I wanted to take a few swings my self. This is the story of Maybe and Alexsei.
Maybe Dolan just walked into Whiskey Sharp and told Alexsei Petrov to hire her because she is the best and of course his aunt told her that he should hire her as well. Maybe of course, lives next to his aunt, along with her older sister Rachel. As the story unfolds you find out that Rachel has been through a lot, so has Maybe. The dynamic between their parents is one that will make the reader want to scream, rage, and at times beat them with a bat for being so stupid. But these are all things that Maybe keeps to herself, including the lust that she has for Alexsei, until he is free of his ex. Then she takes the leap and asks him out.
Alexsei Petrov has had a thing for Maybe for a long time, but never acted on it. Now that he is ready to take that leap, she beats him to the punch and his only all too willing to take her up on it. But as he beings to spend more and more time with Maybe, he begins to realize that she is the only woman that brings out a protective nature in him. He wants nothing more than to spend every minute of every day with her. He wants forever with the beautiful, colorful, and outspoken Maybe Dolan.
When her father comes calling and threatens Maybe and Rachel, Alexsei and his family will rally around the girls to keep them safe. But can Alexsei convince Maybe to open up about her past, or will his questions push her out of his life forever.
This story kept me hooked from the first page. I have to say, that there are some issues that do not get resolved in this book so if you are thinking of reading the second book when it is release, I am going to tell you to read this book first. You need to understand what Maybe and Rachel have been through to understand where this series is heading. Yes, I know that Maybe might be a strange name for the main female character, that this is also explained in this book. I fell in love with these characters and cannot wait to see what will happen throughout this amazing series.

Book Info:

Publication: Published January 30th 2018 | Harlequin Books | Whiskey Sharp #1
The sharpest ache comes from wanting what you think you can't have
Maybe Dolan has lived independent, free-spirited and unattached since leaving home at sixteen. Whiskey Sharp, Seattle's sexy vintage-styled barbershop and whiskey bar, gave her a job and a reason to put down roots. Cutting hair by day, losing herself drumming in a punk rock band by night, she's got it good.
But a longtime crush that turns into a hot, edgy night with brooding and bearded Alexsei Petrov makes it a hell of a lot better.
Maybe's blunt attitude and carnal smile hooked Alexsei from the start. Protecting people is part of his nature and Maybe is meant to be his even if she doesn't know it. Yet. He can't help himself from wanting to protect and care for her.
But Maybe's fiery independent spirit means pushing back when Alexsei goes too far. Still, he's not afraid to do a little pushing of his own to get what he wants her in his life, and his bed, for good. Maybe's more intoxicating than all the liquor on his shelf and he's not afraid to ride the blade's edge to bind her to him."