Light My Fire by Jane Graves is the fourth book in The DeMarco Family series. It can be read as a standalone. I haven't read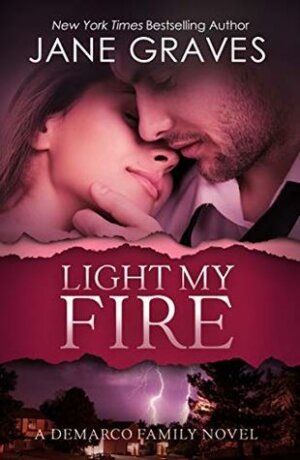 any of the previous books and I didn't feel like I was missing anything in regards to the storyline or the characters. As a disclaimer, this book was previously released under a different publisher in 2004. Not having read the previous release, I'm unable to tell you if there have been any significant changes made to the original story.
Sandy DeMarco, a florist, is also in charge of the neighborhood watch. When defense attorney Ethan Milner finds himself on the wrong side of the law, he is sentenced to community service, to be served with Sandy. Sandy has heard all about Ethan, all negative things, from her three brothers who are cops that don't appreciate Ethan's ability to get almost anyone acquitted. Sandy sees another side of Ethan, the side of him he doesn't show often, and the side of him who hates getting the criminals off. When a murder hits Sandy's quite neighborhood on their watch and her employee, Josh, is accused, Sandy convinces Ethan to waive his ten-thousand-dollar retainer and take the case pro bono.
While Sandy is convinced of Josh's innocence, Ethan isn't. Still, he's determined to do what he does best—get the accused acquitted. The more time he spends with Sandy though, the more her positive attitude rubs off on him. But when it becomes clear that Sandy has become a target and the detective in charge of the case isn't taking their concerns about another possible suspect seriously, will the pair be able to solve the crime on their own before it's too late?
This book sucked me in from the get-go and kept my attention throughout. I had a hard time putting it down and couldn't wait to see how it all played out. The mystery kept me on the edge of my seat, and I didn't expect things to turn out the way they did.
It seems at the beginning that Ethan and Sandy are opposites—she sees the good in everyone and he only sees the negative—but underneath it all, Ethan is more like Sandy than even he realizes. Instead of celebrating his wins in court, he actually mourns them because he suspects a lot of the people he represents are actually guilty. I liked that Sandy points out that while that may be the case, there are actually innocent people that he helped free, too. While her brothers look down at him because of his job, she tries to build him up, and it seems like he never had a lot of that in his life.
My only compliant is that I would have liked to have seen some closure between Josh and his grandmother, who he was living with. After the arrest she pretty much wrote him off, not even considering that he might not be guilty. She just assumes the worst because of her son, Josh's father, and his run-ins with the law. I would have liked to have seen her make up for shutting him out like that. Guilt or innocence aside, he was a young guy who just needed someone to believe in him.
With excellent characters, a well-written story line with plenty of twists and turns, and a who-done-it mystery, fans of romantic suspense are in for a great read with Light My Fire.

Book Info:

Publication: May 14, 2019 | Tule Publishing | The DeMarco Family #4
Defense attorney Ethan Milner is well-paid for his ability to charm a jury while ruthlessly slashing the prosecution. He's living life in the fast lane, until he's slapped with a reckless driving charge and sentenced to 40 hours of community service on a crime watch patrol. Now he's under the thumb of the chairman of the city's crime watch council – a no-nonsense woman determined to make him pay his debt to society.
Sandy DeMarco is familiar with Ethan's professional character, as well as his notorious "bad boy" reputation with women. Still, when her quiet neighborhood is shaken by a brutal murder and an employee of hers becomes the prime suspect, she knows the accused's only hope is the man who will win at any cost. Working alongside Sandy, Ethan feels the spark of attraction that ignites into love – even as a killer burns to silence them both.