Like You Love Me by Adriana Locke: Honey Creek has always been her home and the Honey House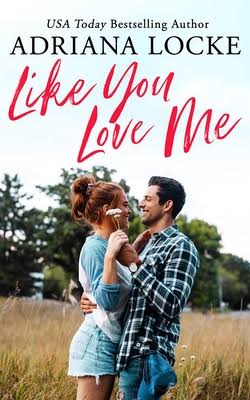 B&B the one thing that Sophie Bates has left to connect her to her grandmother but with the Honey House in dire need of a bit of TLC and a new fancy B&B opened up a town over Sophie finds herself in a tight spot. More so after her no good ex husband left her high and dry when he cleared out her bank account. So unless a miracle falls into lap it looks like her only option might be to get a bank loan which would go against all her grandmothers wishes. With all of this already on her plate the last thing Sophie expected was a blast from her past to come in and save the day.
"If I could look away from his stupidly gorgeous green eyes and kissable lips— the bottom one with a slight line running down the center, making it look poutier than it even is—I totally would. That's what I need to do. I know that. I just . . . can't. And not just because he's devilishly handsome, standing there and waiting on me to come inside and marry him."
Doctor Holden McKenzie has always much preferred animal to people which is exactly how he found himself going down the veterinary path much to his father's dismay, with his life in the city going up in flames Holden finds himself back at the one place that he always felt comfortable with his grandfather in Honey Creek. However Holden has a huge dilemma on his hands with the company that he is hoping to work for being a more family oriented and him fresh out of a fiancée it would seem this dream is practically crushed. That is until he runs into childhood friend and spunky B&B owner Sophie Bates. As it would turn out these two old friends might just be able to help each other out, a marriage of convenience, one to make Holden look more family oriented and to help Sophie with her back taxes. But what happens when their marriage of convenience starts to feel more and more real? Will these two find their happily ever after before it is to late?
"It's been too long since I was with a woman. And now here I am, married to a little siren, and I can't have her."
This small town romance was pure brilliance! I am a huge fan of this trope added to the mix that the lead male character is a veteran and I was sold! Like You Love Me was the perfect sweet as pie (wink wink) friends to lovers romance mixed in with a bit of angsty drama and a whole town of meddlesome gossips. I instantly fell in love with Honey Creek and their small community.
"Follow the sun, kiddo. Go where your soul feels warm . . . You'll know what choices you need to make in life if you follow the sun." Pap's words clang through my mind. Sophie. She's my sun."
Sophie was just perfect, sweet small town girl that loves to help her community and has a tight bond with her two siblings. Whereas Holden was more of a lost soul, trying to find what truly makes him happy. I was instantly invested in this couple from the first moment we got to see them together, their hilarious banter and underlying connection was palpable. I absolutely loved watching them play house and fall into a comfortable new normal, one neither knew they wanted. I loved getting to see them relive their shared past memories while they grew closer now.
"The night I told her she'd have to act like she loves me. Little did I know that would start a fire that neither of us would be able to stop. That it would spark a love story that we'll pass down to our children and grandchildren."
This super honey sweet second chance, childhood friends, fake turned real romance was the perfect read that I would highly recommend reading! I can not believe it took me this long to get into a Adrina Locke book but I will definitely be looking forward to her next book in the Honey Creek series!
Book Info:

Publication: February 16th 2021 | Montlake | Honey Creek #1
Two childhood friends are playing house—and maybe playing for keeps—in this sexy, and unpredictable marriage-of-convenience romance.
To save her Tennessee bed-and-breakfast, Sophie Bates needs a fast-cash miracle. Holden McKenzie, her childhood best friend, needs to prove to a prospective employer that he's a committed man. Their fortunes on the line, Holden proposes…a solution.
He'll take care of Sophie's bills if she agrees to a temporary marriage of convenience. And why not? They're comfortable together, they have fun, and they trust each other. It's as simple as saying "I do." But the off-the-cuff wedding has all of Honey Creek talking—and Sophie and Holden realizing that their perfect arrangement is working too well. If they're not careful, this marriage could turn into a love story.