In Live (Burnside #1) by Mary Ann Rivers, Lately, Destiny Burnside spends her days at her local library filling out applications and submitting resumes while on the hunt for a job. She also spends a lot of that time sneaking glances at the woodcarver with the incredible hands and cute accent she can't quite place. Her emotions get the best of her on one fateful day and as she tries to hide her tears, Destiny finds Hefin Thomas consoling her and helping her along her path to employment.
"I know how you are. You feed a girl some pancakes and toss your whole life in after her."
"True. You've got me there."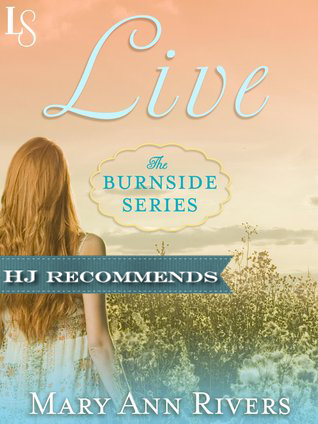 Destiny loves every stolen moment she gets with Hefin. From sharing a lunch of pancakes together to going to the batting cages, she tries to cherish every memory, for once his project at the library is complete, he'll be heading home to Wales. Money issues and family problems keep Destiny feeling grounded in her hometown in Ohio, so she knows she'll be saying goodbye to Hefin before long. But how can she say farewell to the man who makes her feel like she's finally living and who understands her completely?
'She would lessen that weight in pieces, in a hundred different kinds of farewells. These days would be an advent, a little present every day and hour, until there were no more, but she would be different on the other side.'
Hefin Thomas is at a crossroads in his life. When he's done at the library, he thinks some time home with his Mum and Dad will help him sort out his options. Hefin finally gets the courage to approach beautiful red-headed Destiny when her crying pulls at his heart. He knows it's not smart to get involved with her when his time in the States is limited. But Destiny calms him and settles his soul like no other. Hefin doesn't want to leave her and wonders if he selfishly offers to bring her to Wales with him, would she accept?
"I love you, Destiny Burnside. You can right count on that for a long time. You can even put away in your heart that I'll wait for you because here's the thing, I likely will."
If ever there was a sigh-worthy novel, Live would be it. Book one in Mary Ann Rivers new Burnside series gets us off to a great start, meeting Destiny Burnside and her love interest, Welshman Hefin Thomas. These two caring people charmed their way into my heart with their well-deserved HEA.
I have to start off saying I know this style of writing may not appeal to everyone. I've read the reviews that state it's precocious and there was too much "thinking". To me, it's a realistic and raw story filled with intelligence and love. I find it's witty in a way that makes you think about the character's emotions and it gets you right into the middle of all the drama. It's like being an observer to the events–each scene is incredibly detailed so it is easy to picture everything as it is happening. Mary Ann shines at describing all the simple but meaningful, tender things people think and do for each other in their everyday lives. That's where the real romance comes through, in my humble opinion.
Destiny and Hefin were such a sweet and cute couple who seemed almost like they were teenagers, falling for the first time, who couldn't get close enough to each other. And then the real world would interfere and they were torn. Torn with what they meant to one another and torn with how they should move forward. I think the dialogue between Hefin and Destiny was spot on. It was brutally honest at times but then could turn sexy as needed. I loved that they both had shy moments and that there was a realistic awkwardness that made them endearing. And who wouldn't love a thoughtful Welshman with a stunning accent who cherished his girlfriend? The fact that Hefin loved Destiny exactly as she was, freckles and all, made this freckled girl fall for him, too!
In Mary Ann's Acknowledgements she called the Burnside series a "real contemporary family saga" and I think that perfectly explains it. I realized as I read Live, it was reminiscent of Bella Andre's Sullivans series. The story is about Destiny and Hefin, but the Burnside family plays such an integral part in everything that happens. Of course that leaves the door open for book two, Laugh, which will be older brother Sam's story. Look for that one in late spring 2014.
I hope you get a chance to read Destiny and Hefin's love story. Live has warmth, great family dynamics, longing and hope. Definitely recommended.
Book Info:

Published January 21st 2014 by Loveswept | Series: Burnside #1
Mary Ann Rivers kicks off a new contemporary romance series—sure to please readers of Ruthie Knox, Kristan Higgins, and Jill Shalvis—where love can be found unexpectedly.
If there's an upside to unemployment, Destiny Burnside may have found it. Job searching at her local library in Lakefield, Ohio, gives her plenty of time to ogle the hottest man she has ever laid eyes on: the sexy wood-carver who's restoring the building. But as the rejection letters pile up, Destiny finds an unexpected shoulder to cry on. With his rich Welsh accent, Hefin Thomas stirs Destiny so completely that, even though he's leaving soon, she lets herself believe the memory of his scorching kisses will be enough.
Hefin can't help but notice the slender, confident woman with ginger hair who returns each day, so hopeful and determined. So when the tears start to fall, his silence—penance for a failed marriage—finally cracks. Once he's touched her, what Hefin wants is to take her back to Wales and hold her forever. But Destiny's roots run too deep. What they both need is each other—to learn how to live and love again.