In Mr. Virile and the Girl Next Door by Gwen Hayes, online dating blogger Dane Martin has successfully evolved his website into a soon to be published book. Dane is the ultimate bachelor and his dating advice for men has become legendary. His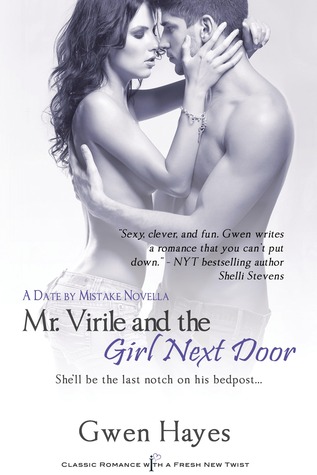 success with virile.com is ironic because he was the nerdiest of nerds in high school and over the last ten years has transformed himself into a good-looking, confident, alpha man about town. A small part of Dane will always be a tad nerdy.
Relationship blogger Holly Winter has a huge female following. So much so that her girlnextdoor.com website is being transformed into a book next year. Women crave her sensibleness, practicality and overall knowledge of the opposite sex, in order to deal with the male species successfully. However, sometimes she finds it difficult to take her own advice and follow the guidelines she proposes for a meaningful relationship.
Dane and Holly are total opposites, but you know what they say….opposites attract, and that is why their respective agents decide a fix-up is in order. Well, that and the fact that Dane's agent is in love with Holly's agent. Overtime, Dane and Holly fall in lust, get to know each other, unveil some of their darkest moments and fall in love.
To begin with, this is a scorcher of a novella and the cover is extremely sexy. The story is fresh, and the question and answer blurbs scattered throughout the pages compliment the blog theme perfectly. I really liked the conspiring literary agents, Mitch and Magdalene, and hope to read a story about them in the near future (hint, hint).
Book Info:

Publication: January 13th 2014 by Entangled: Indulgence
Online virile.com dating columnist Dane Martin has no plans to give up his reign as bachelor extraordinaire. He has a reputation to uphold, especially with the upcoming release of his book Coming on Strong.
Holly Winters, everyone's favorite girl next door, thanks to her blog of the same name, gives advice, but she doesn't always take it. When she meets Dane Martin, every fiber of her being warns her to turn tail and run. Instead, she risks her future as an authority on relationships, jeopardizing her upcoming self-help book for women struggling to find commitment among the Virile sycophants.
Has the Girl Next Door tamed the most Virile man alive, or is she just another notch on the bedpost?