In Loki Ascending by Asa Maria Bradley, human Scott Brisbane has felt like an outsider of the tribe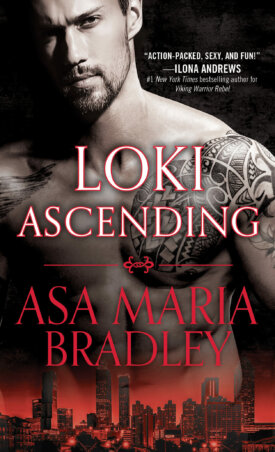 of immortals led by his sister the King, who she was mated with. He's had a crush on healer Irja Vainio but, as a human, felt he didn't have a chance with her. Irja has had a crush on Scott as well, but she feels like she can't let anyone in, can't let anyone else know her true abilities. But when Irja's brother and another immortal both fall into comas, and it looks like the prankster god, Loki, is trying to return to the mortal realm, everyone turns to Irja and Scott to figure everything out. Will they be able to put their differences aside and accept the fact that they're more powerful together than they are apart?
This is the third book in the series but I have not read the others. While the author does a pretty decent job of world building in this book, I still felt like I was missing things, which took away from the story a bit for me.
I found the first half of the book to be slow paced and, at times, a little boring. Things started to pick up in the second half of the book though. If you're patient, give it a little time to get to the good parts.
My feelings on Irja are conflicted. On one hand I liked her and appreciated how hard she worked for the immortal tribes. On the other hand, she blames herself unnecessarily for things that happened in the past, which not only keep her apart from the tribes, but holds her back from Scott and from acknowledging what is happening between them. Even when her brother tells her what happened wasn't her fault, she still insists on carrying the blame. It was a bit frustrating at times.
I liked Scott for the most part, but he, too, keeps himself apart from the tribes. His excuse is that he's a human so he can't truly be a part of them, but the immortals don't see it that way. It's clear they consider him one of their own, even sending him out on missions, yet he himself can't see that.
As for the whole Loki aspect of the story, I'll admit I was a little confused. What was Loki's purpose on trying to get back to the human realm? What was he planning on doing? It wasn't really clear. Also, while it seems like Loki was supposed to be the bad guy in the book, he really doesn't come across as being all that bad. He's more of a meddlesome prankster instead of truly evil.
At the end of the day, this book wasn't my cup of tea. It wasn't bad, but I didn't really connect with the characters or the writing style, which made it hard for me to get into it. If you're willing to give it a try, I'd say it's geared towards readers who enjoy paranormal books.
Book Info: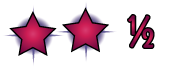 Publication: December 31, 2019 | Sourcebooks Casablanca | Viking Warriors #3
Scott Brisbane has been in love with immortal Viking healer Irja Vainio for years, but as a human, let his fear hold him back. Now that Scott has finally earned his place with the tribe whose king his sister married, there's nothing standing in the way of his true feelings. But Irja knows that getting close to someone is a death sentence…
When the Viking warriors start falling into comas one by one, Irja is desperate to stop the illness from spreading. Without a cure, she'll have to rely on magic she hasn't used for centuries–magic that taught her to never let anyone get close. When the evil god Loki offers her the cure, it comes with a steep price that could cost Irja and Scott everything.