Lone Star Blues (Wrangler's Creek #5) by Delores Fossen: There's one thing for certain, none of the gals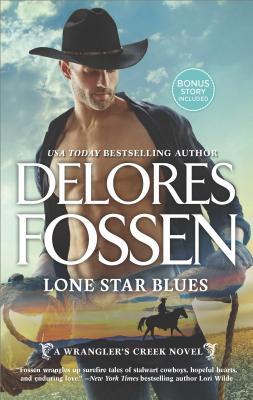 in Wrangler's Creek would disagree, Dylan Granger's thousand-watt smile sure made all the ladies swoon. Not that most of the eligible young ladies in town hadn't had their own personal at-bat with Dylan Granger so could testify.
Dylan Granger is quite the ladies man, so much so that a cocktail waitress at the Longhorn Bar got the bright idea to start up the Dylan Granger Sex Bingo Game. A very popular game being played around the county. There were a few full-card bingos too until the night of Dylan's brother, Lawson's bachelor party. Dylan made a pledge to stay celibate for a month. It was videod and sent to his mother who would certainly work to make sure Dylan stuck to his pledge. That was all well and good until the San Antonio police officer and a social worker show up at the Granger's ranch with 2 1/2 year old Corbin Dylan Rivera. It seems Corbin's mother, Adele Rivera, was arrested and signed paperwork for temporary custody of the child to go to his father, one Dylan Granger.
At the same time Adele Rivera's cousin, Jordan Rivera, was flying to San Antonio to start her latest Air Force assignment there after her helicopter crash and her being taken captive and subsequently rescued. As it happens Jordan is Dylan's ex-wife. She is going to find out soon that the attraction between herself and Dylan is still sizzlin' hot. After all according to Jordan the taste of Dylan's kisses is a version of cowboy sin. Fireworks of all kinds are about to be shooting off in Wrangler's Creek soon.
Delores Fossen is one of my favorite authors. Her writing style is smooth, humorous and easy to read. In this book, Lone Star Blues, the latest in Delores Fossen's Wrangler Creek series, the author once again tells a fun tale with lots of action and witty dialogue. A number of characters her readers learned to love in past books in the series reappear here and again entertain the reader.
There's lots happening in this story so buckle up for a wild ride!
Book Info:

Publication: April 17th 2018 | HQN | Wrangler's Creek #5
Wrangler's Creek's most eligible bad boy has just become its most eligible single dadDylan Granger could always count on his rebellious-cowboy charm to get his way–until the day his wife, Jordan, left him and joined the military. The realization that during a wild night he got her cousin pregnant is shocking enough. But the news that Jordan has come home to Texas to help raise the baby is the last thing he expects.Raising a baby with Dylan in Wrangler's Creek is a life Jordan might've had years ago, but she doesn't want regrets. She wants what's best for the child–and to find out if there's something deeper between her and her ex than blazing-hot chemistry. Getting closer means letting down her guard to Dylan again, but will he be able to accept the emotional scars on her heart?