In Lone Star Protector by Jennie Jones, Lauren Mackillop is returning back to Surrender, Texas, after her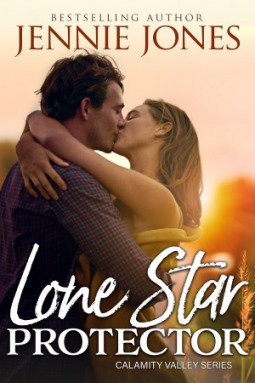 business partner gambles away her business. Now her family is depending on her to return and figure out how to save the town from Donaldson, a businessman determined to take over three towns in Calamity Valley in order to develop them. While at LAX waiting for her flight, she meets Mark Sterrett, who is also going to Texas. While Lauren has no idea who he is, he knows exactly who she is because Donaldson is blackmailing him into finding out how she plans to save the town. When she gets back to Surrender and realizes Mark is the new owner of the town's saloon, she's suspicious but knows she needs to work with him. Will Donaldson find a way to ruin it all?
I will start off by saying that I was expecting a straightforward romance. What I was not expecting, however, was the fact that the Mackillop women have "gifts". Lauren can have conversations with her grandmother in her head. She also has visions of what the future can be with Mark by her side. Mark, for his part, keeps seeing visions of Lauren when she was a child in a mirror in the saloon. He thinks he must be going crazy, while Lauren believes he might be the key to breaking the curse her great-grandfather put on the Mackillop women, which causes them to be single. I thought it was an interesting addition to the story.
The romance between Lauren and Mark is slow to build up. Lauren's main focus is to save the town, while Mark's main focus is to not only help save the town, but keep his mother and sisters safe from Donaldson and his threats to set them up for a crime they didn't commit simply because his father, who Mark hasn't seen in years, had embezzled from Donaldson's company. Their focus is more on that then their romance, which causes the romance to take a while to develop. As a result, I felt they didn't really didn't know each other all that well. While Lauren told him she had a gift, she doesn't tell him exactly what she's been seeing. And Mark doesn't confess his visions until later in the book, and he never divulges what was going on with his family until he absolutely had to. It made it a little difficult to buy their declarations of love.
That aside, I loved the characters of the town. They were quirky and entertaining. When they needed to, they put their differences aside to pull together to save the town and when they truth comes about Lauren's previous business, they surround her with support and understanding.
This is the second book in the series. I haven't read the first book in the series, which is about Molly's cousin and her efforts to save the town of Hopeless from Donaldson. Molly's gift is referenced to but never fully explained, and there are some vague references to what happened when her gifts were reveled to her. I thought this books works as a s standalone, but you may want to read the previous book, Lone Star Hero, first if you want to know what happened with her and what exactly her gift is. Because I didn't read that book, I felt like I was missing something when it came to Molly, but it wasn't enough to take away from the story since she only makes a few appearances in this one.
An enjoyable book with interesting and entertaining characters, Lone Star Protector is book readers of small-town romances with a slight paranormal twist will enjoy.
Book Info: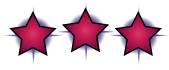 Publication: February 26, 2019 | Tule Publishing | Calamity Valley #2
If you don't fight for what you love, you won't know what you've lost When Lauren Mackillop's shady business partner gambles away her small business, she heads home to Surrender in Calamity Valley, Texas, to lick her wounds and plan her next move. But she walks straight into another battle to thwart a development company's scheme to take over their charming Texas haven. Determined to safeguard her town, her senses are on alert when the sexy stranger she flirted with while briefly stranded at LAX turns up as the new owner of the saloon. Something's going on, and this time, Lauren isn't going to give in without a fight. Mark Sterrett has trouble on his heels and more on the way. To protect his family's reputation from ruin he's been tasked with ensuring this land deal goes through. But he's up against more than he bargained for. Making his life more complicated, he's drawn to the intriguing and enticing Lauren and as their attraction simmers and the threat to the town heightens, Mark wonders if he can get through the next two weeks with his conscience and his heart intact.