Lone Star Reunion by Joss Wood is part of the multi-authored Texas Cattleman's Club: Bachelor auction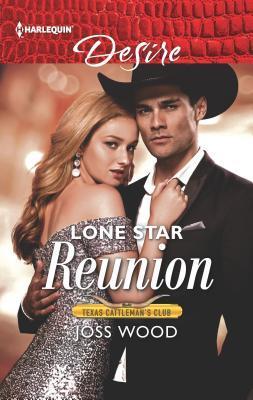 series and a second chance romance for two characters whom we catch glimpses of in previous series entries but finally get their happy ending here!
Daniel Clayton and Alexis Slade were teenaged lovers, but a family feud between their grandparents (Gus, Alexis's grandfather and Rose, Daniel's grandmother) broke them apart. It's been ten years since their ill fated romance, when Alexis left their town for school and Daniel stayed behind. Alexis is back now as a favour to Gus but she's not planning to stick around, intending to go back to Houston.
Daniel and Alexis reconnect in a secret affair while she's home and with Gus and Rose mending their relationship, there's no reason they need to stay apart, especially when Alexis winds up pregnant. Daniel wants to do the right thing and be there for the baby, but Alexis has doubts about his commitment, especially since love doesn't seem to be on the table. When Gus and Rose plan a 'kidnapping' to force Daniel and Alexis to hash out their relationship away from prying eyes, will they take this chance to figure out the way to their happy ever after?
I really enjoyed this story! Daniel and Alexis both had challenging upbringings and relied on their grandparents, enough so that the feud between Gus and Rose had lasting consequences. Now that Gus and Rose have reconciled and gotten together themselves (a story told through several of the previous series books) they want to fix what they know they caused.
Daniel and Alexis have to be willing to put the past behind them and be honest with each other if they're going to make up for lost time. Their love scenes are sexy and fun, but they are both very clear that it's going to be a short term fling, at least until Alexis finds out she's pregnant. Then things change and even though Alexis wants Daniel to be part of their child's life, it doesn't mean she's ready to let him into her heart again. In they end they find their way back to each other, though not without a little prodding from their friends and family. It's a lovely addition to the series!
Book Info:

Publication: Feb 01, 2019 | Harlequin Desire | Texas Cattleman's Club: Bachelor Auction #6
"In Royal, Texas, everything brings back difficult memories…especially you."
But walking away again might prove impossible…
Feuding grandparents ended Daniel Clayton and Alexis Slade's teenage romance—and ten years hasn't healed the family rift…nor cooled their intense desire. But when staying apart backfires spectacularly, Daniel and Lexi find themselves entangled in a forbidden affair that leads to an unexpected pregnancy. Will they stay loyal to their families…or to their own hearts?