Wow, Losing Control (A Babysitting a Billionaire Novel) by Nina Croft is an exceptional read. A suspenseful and amusing prologue draws you into this erotic romance with characters that are charming, sympathetic and sincere.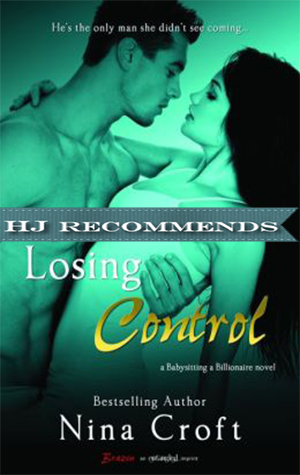 Divorcee Kim Rawlings, is a security specialist and finally in control of her life. After her former husband got through with his physical and emotional abuse, she was lucky enough to escape with her life. Kim still has a few demons that present themselves every now and then, but she is able to work through most of them, with the exception of loving another man. Loving a man is very risky and Kim is determined to stay in control and never get hurt or give her heart to someone else ever again. However, she is sex deprived and needs her ever present sexual itch to be scratched, with no strings attached. So Kim sets her sites on a coworker and begins the ritual of seduction.
Former military man Jake Knight is the successful CEO of Knight Securities. He has secretly been in love with Kim since the moment he met her over four years ago. Originally hired by her father to look out for her, he is now Kim's boss, best friend, and savior. Since he is in love with her and also her boss, he has cleverly prevented her from being promoted to the highest security level, in order to keep her out of harm's way.
Jake has made all the male employees of his company aware that Kim is totally off limits. In fact, it is right of passage of being employed by his firm. Jake has waited a very long time for Kim to feel secure and due to her new found needs, it is time for him to strike. Jake has looked after her and kept her safe and sound for four years. If she is going to seduce anyone, it is going to be him.
They embark on a no strings attached relationship. The sex is mind-blowing and they both can't get enough of each other. Each encounter is hotter than the previous one. Kim believes that if she spends an entire weekend with Jake having sex, she will be able to get him out of her system forever and move on. Jake believes after a weekend of non-stop sex, Kim will realize that she loves him and they can approach a future together. And what a weekend it is!
Losing Control is chock-full of drama and spicy love scenes, concluded by a delightful and imaginative ending. Nina Croft is an accomplished storyteller, able to incorporate an engaging plot with hot, steamy eroticism. If you want to read a top-notch erotic romance, this book should not be missed.
Book Info

Publisher: Entangled: Brazen (August 12, 2013)
Four years after escaping her abusive ex-husband, Kim finally believes she's in control of her life and her emotions and she's determined to never risk either again with a man. She has a great home, a job as a security specialist which she loves, and Jake for a best friend. But things are a tad lonely in the sex department, so she decides to embark on a no-strings-affair with one of her hot co-workers. And who better to help her remember how to lure a man than her best friend?
Jake has wanted Kim from the moment he first saw her, but four years ago, she was too young and too damaged. So he kept her close and he kept her safe, offering her a job in his security company and the training to feel safe again, and he bided his time. But now, after the long wait, if she imagines he's going to stand by while she seduces some other guy… Never going to happen.