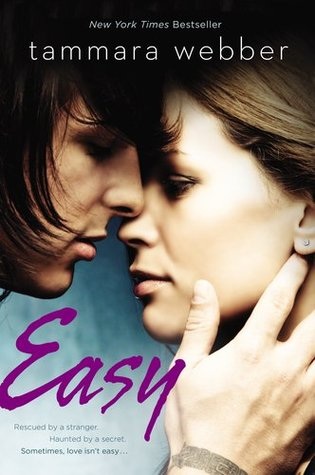 Easy by Tammara Webber: I had no idea of what Easy was about, mainly because of its vague excerpt. But I have to admit it was a refreshing and fun way to read a book. Not knowing anything that was going to happen enriched my reading experience with this book.
I was overly Impressed by the maturity of Jaqueline and Lucas's story and relationship. The one thing I must say about this book is that it has some strong adult themes that added a sense of reality to the story being told.
I liked both of these characters for many reasons but the ones that stand out the most are Jaqueline being so strong an mature, and for Lucas that he was such a sweet man with a great heart.
The raw emotions Ms. Webber managed to include in this book was truly unique. Part of me thinks that this is why I liked this book as much as I did.
I would recommend this book to mature New Adult fans who love a fun, lighthearted, and very emotional romance.
Book Info:

Published November 6th 2012 by Berkley Trade (first published May 25th 2012)
Rescued by a stranger.
Haunted by a secret
Sometimes, love isn't easy…
He watched her, but never knew her. Until thanks to a chance encounter, he became her savior…
The attraction between them was undeniable. Yet the past he'd worked so hard to overcome, and the future she'd put so much faith in, threatened to tear them apart.
Only together could they fight the pain and guilt, face the truth—and find the unexpected power of love.
A groundbreaking novel in the New Adult genre, Easy faces one girl's struggle to regain the trust she's lost, find the inner strength to fight back against an attacker, and accept the peace she finds in the arms of a secretive boy.