Lost on the Way by Isabel Jolie: Grab a bunch of tissues and put the map and compass aside, because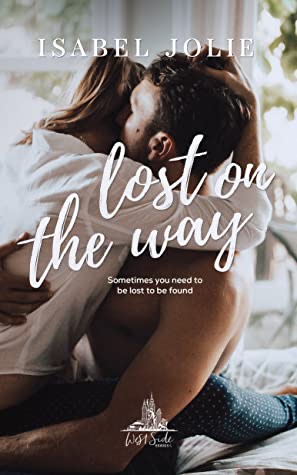 you will be anything but lost on the way through this gorgeous read.
Beginning with a hangover, and some sure signs of the morning after, Jason and Maggie are both horrified to find that their decade long friendship has switched gears, courtesy of tequila generously offering its helping hand the night before. What begins as an awkward 10 minutes is quickly smoothed over by our duo returning to what they know – the routines and love they have shared together for the past 10 years. Except both are entirely in love with each other; the catch being, Jason has cancer, Maggie's first love Adam died of cancer and their friendship is the solid touchstone in both their lives, which neither wish to jeopardise.
Whilst the narrative is delivered from the perspective of both central characters, wherein we explore their fears, hopes and dreams, quite subtly, Jason's chapters are slightly more focused on the past; past memories of he, Maggie and Adam together, of when he met Maggie, and of inane yet beautiful moments he has shared with her as a way of underpinning his motivation to not breach the friendship zone they cherish. Alternatively, Maggie's perspective is very much in the here and now, as she struggles to come to terms with Jason's rejection and what it ultimately means for her future. Sadly, it is clear that Jason's very legitimate fear of dying is preventing him from living in the moment and without realising it, Jason's adoration of her, and therefore attempts at protecting her heart, ultimately remove her freedom of choice, irrespective of whether or not those choices eventually lead to horrendous pain.
From beginning to end, the complexity of their relationship is like an unsolvable riddle and whilst at times incredibly frustrating is made all the more sympathetic because of its authenticity and plausibility. Certainly, Jolie provokes some serious and very human questions about life, death, love and whether or not it is selfish to try and protect those we love from the grief and trauma of our ultimate end. And yet, that's life isn't it? Aren't they the risks we take to ensure we can live each moment to the next as wholly and completely as is humanly possible?
At times, heartbreaking, whilst at others overwhelmingly joyous, Lost on the Way is a wonderful read that will provoke a few laughs and jerk a few tears along the way, and ultimately leave you feeling that in matters of the heart, and in matters of love the risk is its own reward. As Lost on the Way surmises, to live a full and complete life with the person you love, however brief, is undeniably worth more than a thousand lifetimes without them.

Book Info:

Publication: 21st September 2020 | Noctivity | West Side #4
They were friends—just friends. Now they're something else entirely…
Jason
I remember everything about the day I met her. I might have asked for her number, but I had bigger things to think about that day than trying to score a date.
I remember everything about the second time we crossed paths. By then, she had a boyfriend. Of course, she did. A girl like Maggie Gray Thompson wouldn't stay single long.
It's hard to believe freshman year passed ten years ago. Now Maggie's my best friend, my family. A friendship like ours, it's irreplaceable. When we buried Adam, I stood by her. When my cancer returned, she stood by me.
Then, in one night, I throw that friendship away.
I want her with everything I am, everything I have, but she can't be mine. She deserves someone with better odds than the doctors gave me.
Now, if I can't figure out how to go back to the way things were, I'll lose the most important relationship I have. The only one that truly matters.
Maggie
Last night was the best—and worst—night of my life.
He made it clear he only wants a friendship. Then last night happened.
And now he knows how I feel.
Some part of me knows he'll always see me as his best friend's girl. He can't look at me without seeing Adam.
Jason is my best friend. I love him with everything I have—mind, body, and soul.
The problem? His love for me isn't that kind of love. And that's okay. I can live with that.
I can't lose him. If he wants to stay in the friend zone, I'll need to somehow accept that and move on. Find someone else to love. I know it's true.
But convincing my heart…well, that's another story entirely.