Sext With Me by Evie Claire: While the characters were fun to read about, the author didn't develop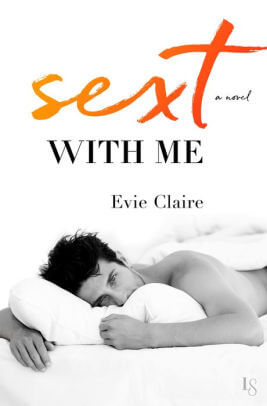 their stories well. Talia had a troubled relationship with her mom, and suffers from abandonment issues. However the author totally missed on making the reader understand the intricacies of this troubled relationship.
The reader never really finds out what caused Talia's mom to abandon her in her childhood. There was potential in that story-line, but the author completely skipped utilizing it. I enjoyed Talia's relationship with her Grandmother, and her friends Doris and Emilie. They all added to Talia's story.
When I read the title, I was afraid that the book would be heavy with steamy sex scenes and sensual language. But I liked that the author didn't over-do it. While the book does have steamy scenes and sexting, the author has pulled off a good balance.
I loved the main characters- Talia and Maxwell. Talia is kind, gentle, but a strong character. Maxwell is intelligent, confident, and a caring individual. I particularly appreciated Maxwell's attitude and outlook towards life. While both the characters had good reasons to stay away from relationships, the author rushed the ending to their story. I would have loved to read more about their journey to find each other.
It wasn't a bad read. However, there was a lot of potential in the plot and story-line. I wish the author had explored that completely. It would have added immense substance to the book.
Book Info:

Publication: September 15, 2020 | Loveswept |
Professor Maxwell Radclyffe is no stranger to great sex. As Talmadge University's human sexualities professor, he's intimately familiar with the carnal desires that drive . . . well, everyone. So of course it makes him crazy that the university's new and seductively demure librarian is strictly off limits. Stressed to the max and needing a little release, he casually sends a steamy message to a former hookup who prefers no-strings-attached fun, too. Or so he thinks. . . .
As Talmadge University's newest librarian, Talia King is ready to turn the page and start another chapter in her life. But her meetings with Professor Radclyffe, her faculty mentor, over a university fundraiser leave her fantasizing about him in ways she never expected—dreaming about his piercing green eyes, wondering if he's as knowledgeable in the bedroom as his PhD suggests. When she gets a sext from an unknown number, she wants to try something wild for once. But when she realizes who's on the other end, she may just have to put her heart on the line. . . .