In Lost With Me (Stark Saga #5) by J. Kenner, Finally feeling like everything is falling into place after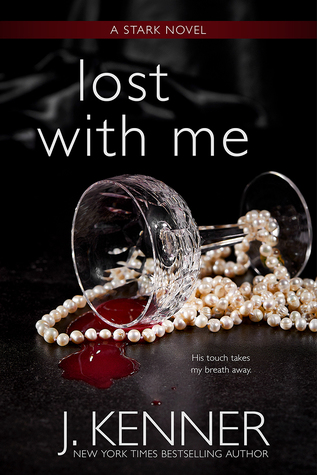 years of struggles and dark times, Nikki Fairchild Stark is enjoying every wonderful moment she gets to spend with her children and her beloved husband Damien. Her kids bring back a sense of wonder and joy to her life, seeing the world through their trusting eyes. But her husband, well he brings a whole different aspect to Nikki's life. One of passion, desire, and love. So much love that it's bordering on ridiculous. But she'll take it, all while enjoying the new life they've forged between them.
"Damien?" The corner of my mouth twitches. "What?"
"Just this," he says, then bends to claim my mouth with his. Not a soft kiss, appropriate for planting on your wife in front of your coworkers and employees. No, this kiss is pure sin. Wicked. Wild.
Nikki's happiness is severely interrupted when her family is threatened and the unthinkable happens. Banding together all of her and Damien's friends and coworkers, they are determined to find out who is out to shatter their lives. Only, with their complicated past and Damien's fame and net worth, there are seemingly too many people to sort through. Nikki finds herself at the lowest point she's encountered in years and can only hope that she and Damien can shore each other up and be there for one another so they can make it through the crisis intact. And possibly even stronger than when it all began.
"I don't like seeing you hurt or scared or worried." His voice is low but intense…
"I know… But you're the reason I can handle being hurt or scared or worried. Because I know you'll always be there to help me through it all."
"Always," he says, his voice heavy with promise.
Lost With Me was an exciting new addition to the Stark Saga with everything we love about Damien and Nikki: their passionate connection–which of course included erotic-edged, steamy love scenes, their commitment to their family, and this time around, lots of suspense as they figured out who was threatening their hard-won blissful life together.
'I have the strength to fight this. Damien may be lost with me right now, but he's given me enough strength over the years. I'm *not* surrendering.'
J. Kenner proved once again with Lost With Me why she is one of my go-to authors for smexy romance. She writes with such attention to detail, whether it's the emotions in a scene or just building the overall scenes and the plot itself. And I think with a story such as this, where there were so many characters, several of them who could potentially have been the one threatening the Starks, those details made this a much more thrilling and cohesive story.
It was such fun being back in Nikki and Damien's world. And in a full-length novel, not a novella this time! We got to see how much the two of them have grown as individuals *and* as a couple–without losing that intensity and physical awareness of each other. I do have to admit that as much as I adore the hot as sin love scenes Kenner writes, one or two felt a little out of place for me in this book. Basically because Damien and Nikki were in the midst of a trying, emotionally-devastating situation and then…boom!…sexy time. It likely will work for the majority of readers, but it didn't necessarily seem realistic to me.
I don't want to give any spoilers for fans who might still be catching up with the Stark Saga, but my favorite part was the two little girls in Damien and Nikki's lives and how they interacted with them. It was adorable and touching, and such a nice contrast to see that sweeter side of their personalities in comparison to the heavy desire that usually rules their world. And we'll be getting an even more in-depth look into all things Stark with the next novel in the saga, titled Damien, from–you guessed it–Damien's POV!!!! *swoon*
Fans can't get enough of Nikki & Damien and neither can I. Just when I think they've reached the pinnacle of their relationship, J. Kenner throws something new at the perfectly imperfect couple and takes things to all new heights. Lost With Me is definitely a must-read for those following the Stark Saga.

Book Info:

Publication: Published October 23rd 2018 | Martini & Olive | Stark Saga #5
From New York Times and #1 International bestselling author J. Kenner comes a new full-length novel in the wildly popular Stark Saga that's left millions of readers breathless.
His touch takes my breath away. Our passion feeds my soul…
My love for Damien fills me, and the intensity of our bond brings me to my knees. There is no burden I wouldn't bear for him, no decadent punishment to which I won't submit.
The dark days seemingly behind us, we have carved a life out of adversity, chiseling away pain to reveal strength and beauty. Now, all I want is to laugh with our children in the sunlight, then surrender myself to Damien's embrace in the dark.
But lingering secrets and hidden menace threaten our family. Now, Damien and I must forge a new strength from our shared passion and hope the fire between us will burn away the darkness and protect everything we hold most dear.
This sexy, emotionally charged romance continues the story of Damien Stark, the powerful billionaire who's never had to take "no" for an answer, and his beloved wife Nikki Fairchild Stark.