In Christmas Angel by Kat Martin, Josh Coltrane broke Angel Summers's heart when they ended up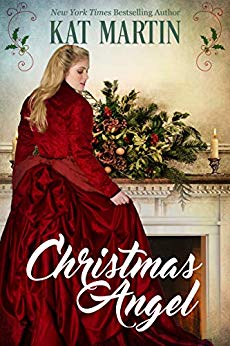 on opposite sides of the war. However, now Josh is back and the moment he sees Angel, he remembers how good things were between them before everything turned sour. Determined to win her back, Josh finds the task near to impossible, especially when Angel is still so bitter towards what she considers a betrayal. Will Josh be able to win back the woman he's always loved or will he walk away before he ends up hurting her all over again?
"I haven't forgotten a single thing about you, Angel."
Her pulse went faster. She forced her chin up a notch. "I told you my name is –"
"Sorry, sweeting, I don't take orders from you. I never did, if you recall." A corner of his mouth curved faintly. "There was a time that was something you liked about me."
"There was a time you weren't a traitor – a dirty, blue-belly Yank."
What an emotionally-charged, fast-paced, interesting read Ms. Martin has delivered in this book where the pages flew by and I was finished this novella within an hour. Really, the main characters were fascinating due to their history because the heroine felt betrayed by the hero. How could he choose to turn to the other side of the war? How could he leave her when they were so in love? Yet, it was from the moment the hero and heroine come face-to-face for the first time in this story where this story really takes off, as the heroine is so bitter and it's hard not to sympathize with her because she didn't just lose Josh all those years ago. She suffered other loses too. Will the heroine be able to forgive Josh? Will Josh be able to find a way to break through the heroine's walls and gain her trust again?
As for the dialogue, it was intense due to the main characters back stories and everything this couple go through on their journey to a second chance at happiness. And really, it was hard not to be affected by the heroine's bitterness. Since it made me think that maybe their second chance at happy ever after wasn't going to happen. Yet, in saying that, I liked the plot twists to this story and how it makes the heroine realize how much she's lost and that she could lose a lot more if she doesn't find it within herself to forgive the past. Besides, there are others worse off than her, so she shouldn't be so bitter.
"I loved Josh once," she said. I still do. "But that's not what this is about. It's about letting go of the past. About seeing things the way they really are. The truth is there are good men and bad men on both sides of the war." She told them about the Confederate soldiers who had come to Summers End, about what they had tried to do. "People were hurt and killed in the North as well as the South. Terrible things were done by men in both armies. The important thing is, the war is over. It's time to forget the past and try to build ourselves a decent future."
With the main characters, I thought the heroine was a little too bitter at the beginning, but she had every right to be with everything she's lost and then Josh's betrayal on top of that. Still, she won me over with her resilience, courageousness and determination to do what's right. It's not fair that people continue to suffer because of the war. While the hero, he's honest, hard-working and I liked how determined he was to win the heroine over. Not only because he needs her due to what's going on and the soldiers that are suffering, but because she once meant everything to him and he still loves her. Will Josh be able to win the heroine over, especially after what he did? Will Josh be able to make her understand that her help is necessary? Since the townspeople won't listen to him and will listen to her. She's one of them unlike him.
Overall, Ms. Martin has delivered a really good Historical romance where the pages flew by because of the strong chemistry between this couple that made me hope they'd get their second chance at happy ever after; the romance was delightful and had me loving the hero's determination to show the heroine they're meant to be together; and the ending left me completely satisfied because of what the heroine does for the hero. It's Christmas; a time for miracles, so why shouldn't she do everything in her power to make the townspeople see reason. Will the townspeople be receptive to her request? I would recommend Christmas Angel by Kat Martin, if you are looking for a quick read, especially if you're into Historical Romance or if you enjoy second chance romances or books by authors Jenna Jaxon, Karyn Gerrard, Jane Goodger and Kate Moore.
Book Info:

Publication: October 30th, 2018 | Zebra |
Despite having been on opposite sides of the war, Yankee doctor Josh Coltrane is unprepared for the continued bitterness of his long-lost love, Angel Summers. Can these two former sweethearts learn to forgive and forget the past?