Love, Almost by Hayley Doyle: Grief, love, and self-discovery are the underpinning thematic tones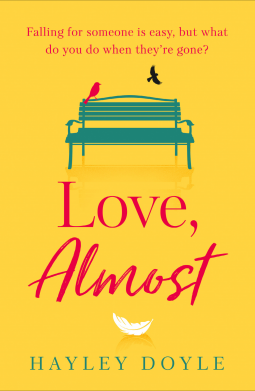 that run throughout Love, Almost. Initially, it appears that Chloe and Jack are in the early throws of falling in love; the relationship appears frivolous and whimsical and from Chloe's perspective, she feels like Jack may be 'The One'.
Having just moved in to Jack's apartment in London, Chloe is startled by Jack's father as she emerges from the shower. Having no idea who she is, or that Jack was even in a live-in relationship, Jack's father announces that Jack has been shockingly killed on the side street, and thinking this is all a little joke, Chloe finds herself struggling to get her head around what's occurred and indeed why Jack's father didn't know she existed. Given she isn't certain whether she was in love with Jack, or indeed if he was in love with her, Chloe finds herself burdened by self-doubt only finding comfort in pursing a type of 'bucket list' that is mapped out and stuck to her fridge; Comedy tickets, Restaurant reservations, and skiing lessons as a way to try and figure out whether Jack loved her or not and what it now means to live her life without him.
Because she is by and large one of those characters who doesn't take too much seriously, Chloe is forced to explore that death not only means missing and grieving the person who has gone, but rather, and perhaps poignantly, the death of plans, hopes and dreams that are created through the natural process of loving people. As the title suggests, Love Almost, is an interesting look at what it means to lose someone when things haven't really been given an opportunity to properly develop and flourish.
In many ways, Love Almost is far closer to Realism than Romance, and as a result there was very little tension throughout with key action kernels fairly non-existent. Whilst Doyle navigates the nature of grief quite effectively, the meandering nature of the book was difficult to push through, and at times a serious lesson in patience not dissimilar to a Chekhov play. Furthermore, Chloe was a frustrating character who was incredibly self-invested and whilst death and grief tend to make us insular and unable to deal with anything other than the cold reality of loss, it appeared to be a consistent prior to losing Jack, not just a product of it.
Overall, Love Almost had a lot of potential and whilst the thematic intent was clear, pacing, limited tension and an unremarkable character made for a fairly bleak read that wasn't abundant with happilies or ever afters. For many who have loved and lost, there will be some comforts and reassurances throughout, and certainly a reminder that grief has no time limit.
Book Info: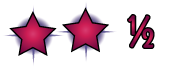 Publication: 7th January 2021 | Avon |
Chloe is deliriously in love for the very first time. But when Jack, her boyfriend of five months, is killed in a tragic accident, she is left reeling. Their relationship was amazing – but it never really had the chance to get started. Grieving but determined, Chloe decides to live life for the both of them and makes her way through the list of things they'd planned to do together – this time on her own.