Crazy Stupid Bromance by Lyssa Kay Adams: All Alexis wanted to do was live her life in peace after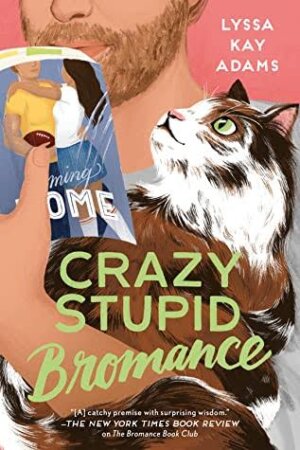 outing her sexually abusive former boss, while providing a safe place for other survivors at her super cute ToeBeans café. After adding her voice to the #metoo movement Alexis has been more conscious of those around her, who might be looking for that shoulder to lean on, so when a skittish young girl keeps coming by Alexis has a feeling that she might want to get something of her chest and all she needs is a bit of encouragement. However the truth bomb the skittish girl drops is one that really proves to rock Alexis world.
Noah is a computer hacker genius but his days of illegal hacking are behind him now he uses his powers for good. With all his big brains and hacking genius the one thing Noah has been unable to do is find his way out of the friends zone. You see Noah has been harbouring a long standing crush on his best friend Alexis. With his feelings for Alexis only growing Noah finally gives into the constant advice and pestering from his friends; The Bromance Book Club boys, and joins their romance loving ranks. With the help of the BBC boys will Noah finally be able to express his feelings for Alexis while helping her navigate her way in this new family revelation?
"His brain knew the right answers, but his brain wasn't in charge. His heart was. With Alexis , it always would be. So it was his heart that pulled her to straddle his lap. His heart that wove his fingers in her hair. And when her lips nudged his— once, twice, not so much a kiss as a question— it was his heart that answered. At long last, yes."
Lyssa Kay Adams is a pure genius! This woman can do no wrong with romance, her Bromance Book Club series is by far the best romcom series I have read to date and they keep getting better with each book! Crazy Stupid Bromance was a brilliant read, one that I did not want to end. I loved the easy going nature of Noah and Alexis relationship and how comfortable they were with leaning on each other, this only made leading into their relationship more organic.
"God, I love you.""I know. And I love you too. I've loved you since the day I met you, and I will love you until the day I die. You are my best friend, Noah Logan. Forever."
I have to say I really liked that Alexis was a strong female and not one that was all woo me. I loved that she wanted to create a safe place for other survivors and that even though she knew nothing of her father and his family she was still so selfless. As for our hero I absolutely loved Noah, I loved getting to see him get over his own past trauma and pain and grow from that and use it to become a better man. Once again I have to say Adam's does a brilliant job at touching on very relevant issues that many face in their lives.
"The happy trail is like catnip for women." Noah gaped at him. "The happy what?" The Russian lifted his shirt and pointed to his stomach. "The line of hair from your belly button to your pork and beans." Mack leaned left to whisper, "Frank and beans." The Russian looked baffled. "Who is Frank?"
Though I do have to say the star if this novel hands down goes to beefcake the grouchy cat and the boys of the Bromance Book Club, especially the Russian. I am a huge cat lover myself so I was very taken with the idea of ToeBeans café and all the cute kitties. Now on the Bromance boys; let's just take a moment to appreciate how cute it was watching this group of big burly men planning this dream princess wedding!
Please do yourself the favor of reading not only Crazy Stupid Bromance but the entire series, every romance lover needs these books in their lives! I can not wait to see what Adams has planned for with the Russians story, one thing I do know is that it will be brilliant!
Book Info:

Publication: October 27th 2020 | Berkley | Bromance Book Club #3
A hacktivist and a cat café owner decode the friend zone in this romantic comedy from the author of Undercover Bromance.
Alexis Carlisle and her cat café, ToeBeans, have shot to fame after she came forward as a victim of a celebrity chef's sexual harassment. When a new customer approaches to confide in her, the last thing Alexis expects is for the woman to claim they're sisters. Unsure what to do, Alexis turns to the only man she trusts—her best friend, Noah Logan.
Computer genius Noah left his rebellious teenage hacker past behind to become a computer security expert. Now he only uses his old skills for the right cause. But Noah's got a secret: He's madly in love with Alexis. When she asks for his help, he wonders if the timing will ever be right to confess his crush.
Noah's pals in The Bromance Book Club are more than willing to share their beloved "manuals" to help him go from bud to boyfriend. But he must decide if telling the truth is worth risking the best friendship he's ever had.