In Love Him or Leave Him by Sara Daniel, Becca Sanders and Connor O'Malley used to be high school sweethearts. But when Connor's so-called best friend started rumors about Becca, Connor did nothing to stop them and turned his back on her.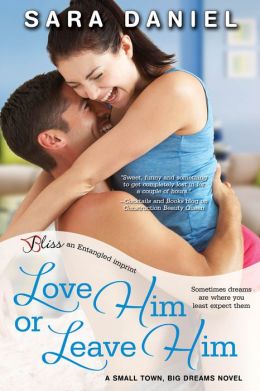 Now Becca is a cashier at the supermarket while she is finishing her degree online and is trying to get her brother to finish high school and send him off to college. A promise that she made her mother on her deathbed and one that she will see through until she can make it happen.
Connor never forgot Becca, not while he was in Afghanistan or when he was a cop afterwards. Now he has been the town's sheriff for the past two years, and Becca has gone out of her way to avoid him the entire time.
A standstill that changes when she charges up to his house to get on his case for telling her brother that it was okay to stay in town if he didn't want to leave for college. As his mentor Becca believes that he should've encouraged him to further his education not to tell him it was okay to stay there like she had to and remained a cashier since her mother's death.
Convincing Becca to give him another chance will not be easy, and his recurring nightmares of the war are not conducive to him trying to begin a relationship. And with Becca planning to leave town as soon as her brother graduates time is running out.
But things are not ever easy and in a town that has always seemed peaceful, what starts like pranks soon escalate to vandalism and everything points to Becca's brother being part of the problem. With the ex-sheriff walking back into town and wanting his job back, Connor cannot slack in his job even a tiny bit. He may end up having to decide what is more important Becca or his job, a decision that could bring Becca back to him or loose her forever.
Connor will not be the only one having to make tough choices. Becca will also have to see how much more important her traveling dreams are than having the love of her life back and being there for her brother. Both Connor and Becca will have to look deep inside themselves and find what will truly make them happy in the end before they throw it away and lose it forever.
For a fun, sweet and very entertaining contemporary romance, don't miss Love Him or Leave Him by Sara Daniel.
Book Info
Publisher: Entangled: Bliss (July 8, 2013)
Sometimes dreams are where you least expect them

Connor O'Malley and Becca Sanders were once high school sweethearts, ripped apart by rumors in the small town of Kortville, Illinois. Connor left to join the military, and Becca stayed, waiting for her younger brother to graduate so she could live her dreams of traveling the world. But now that Connor's back as the town sheriff, Becca finds herself struggling to resist the too-handsome man who once broke her heart.
Connor loves Kortville—its quaintness keeps at bay the painful memories of Afghanistan he's sure make him unworthy of any woman, particularly the beautiful brunette he's always secretly dreamed of a future with. But when a scandal rocks the town, suddenly Connor and Becca must trust in each other if they want to weather this storm…and come out on the other side of it together.