A Hero to Come Home To by Marilyn Pappano, opens up 13 months after Carly lost her military husband in Afghanistan. She is still struggling, still has so much sorrow, and is finding life so difficult. When she talks first with Therese, then bonds with a group of others widows (The Tuesday Night Marguarita Group), by a year later, with the support and understanding only they can provide, she is slowly move forward with her life.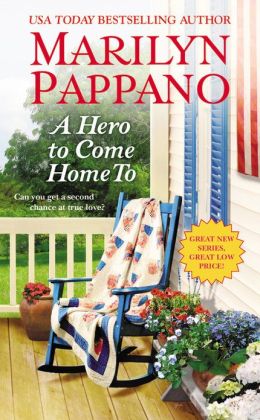 On one of their excursions, she meets Dane…he is serious, and dealing with problems of his own after returning injured from combat. He is still trying to deal with that, how he feels his life has changed, and what he'll do next. He's always intended to put 20 years into the army. His own mother now feels he is not whole, his ex-wife cheated and left, Dane is definitely not looking to have a relationship with another woman at this point in his life.
By coincidence or fate, Carly and Dane keep running into each other, then start getting together as friends. Both of them start to feel more towards each other, but at the same time are dealing with issues. Carly still wears her wedding ring and has all of her husbands belongings in their house. The house still looks the same as when he left on his last mission. She struggles with some guilt over the feelings she is developing for Dane, but at the same time knows she needs to carry on with life. She has wonderful support not only from her friends, but also from her in-laws and especially her sister-in-law who assures her she has enough love in her to love two men at different points in her life. Carly is starting to feel things she hasn't felt in a long time and she is feeling good, especially when her relationship with Dane moves along and she starts thinking of him as her boyfriend.
Dane is not coping well with his injury, and is scared to tell Carly the extent of it for fear that she likes perfection and will see him as flawed. As they slowly move forward they both want more, but Dane is holding back. Carly can tell something is up with Dane, but she is very patient knowing there are some things you have to wait for and not push. The longer Dane holds back with Carly though, the harder it is for him to be honest with her. Dane is going to have to take the risk if he wants to get anywhere in his relationship with Carly. Dane holds on to his secret for too long though, and when Carly finds out she is very upset. Not because of Dane's injury (yes, she is sad for him about that), but because she feels he didn't trust her enough, know her enough after their time spent together to understand the person she is and what she values. This is the real bump in their relationship that they will either drive them apart or bring them closer together. It's all up to Dane now.
I loved the characters in this book. Carly is struggling, but she is finding the strength to carry on. She has some guilt over a new relationship, but she is not over ridden with it and it doesn't control her. She wants to live again and this makes me feel so happy for her, because she deserves it! "She would never stop hurting or missing Jeff, but she could live without him. The thought brought both incredible satisfaction and incredible sorrow. He was the only man she'd ever loved, the light of her life, but she could live without him."
I really felt for Dane. He is struggling so much. Very few people know the extent of his injury, he is afraid to tell anyone, afraid of their reactions. While a part of him knows how lucky he was to come home alive when others didn't, he is still going through a major adjustment. Carly might be just the woman to help him if he'll give her a chance.
Marilyn gives us a wonderful romance with real life, real time issues in A Hero To Come Home To. While it is Dane and Carly's story, we also meet a lot Carly's support group ladies. We also see quite a bit of Dalton, a military husband struggling with the loss of his wife in Afghanistan. I loved this addition to the story, because it is not only men who are lost in war. I am hoping to see more of him in the next book of this series. At times my heart broke for them, at other times I was in awe that they are so strong and can carry on after such tragedy that most of us can only imagine.
A Hero To Come Home To is a serious, very well written romance about life after loss. Marilyn writes with substance and does an excellent job of bringing the characters to life for us, giving us a glimpse into their world. A Hero to Come Home To is not all serious and sorrow, Marilyn balances that out with humor and fun, and the hope of love. Even though it is a fictional book, this does happen in real life and the reader feels with the characters.
I highly recommend A Hero To Come Home To!
Book Info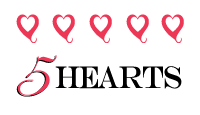 Release date: June 25, 2013 | Series: A Tallgrass Novel
First he fought for his country. Now he'll fight for her.

Two years after losing her husband in Afghanistan, Carly Lowry has rebuilt her life in Tallgrass, Oklahoma. She has a job she loves teaching third grade and the best friends in the world: fellow military wives who understand what it means to love a man in uniform. She's comfortable and content…until she meets a ruggedly handsome stranger who rekindles desires Carly isn't quite sure she's ready to feel.Staff Sergeant Dane Clark wanted to have a loving family, a twenty-year Army stint, and then a low-key civilian career. But the paratrooper's plans were derailed by a mission gone wrong. Struggling to adjust to his new life, he finds comfort in the wide open spaces of Tallgrass–and in the unexpected attention of sweet, lovely Carly. She is the one person who makes him believe life is worth living. But when Carly discovers he's been hiding the real reason he's come to Tallgrass, will Dane be able to convince her he is the hero she needs?