Love in the End Zone (A Never Say Never Football Romance) by Carina Rose: Reese Parker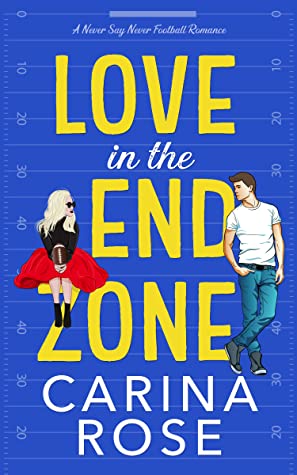 has always loved football, but there is one player that she cannot stand: Trent Archer. He has never shown her anything besides someone who is self-obsessed. From standing up a girl in her sorority to abandoning her grandfather's team for their rival, she wants nothing to do with the man, and then he has the audacity to wink at her and smirk when he scores the winning touchdown? He deserved the middle finger she gave him.
When he locked eyes with the beauty in the stands, he winked at her to try to get her to smile. When she flips him the bird, he is completely taken aback and then she disappears. When he finds out that she is the granddaughter of the owner of the rival team, he wants to find out more so he shows up at her workplace to convince her to have dinner with him.
Immediately, Reese doesn't want a thing to do with Trent, but as they spend more time together, albeit blackmail on Trent's part a bit, they find that they underestimated the person they are dealing with. When Reese finds out the reasons behind her perceived deceptions of Trent, she lets her guard down to show Trent the real her. After an unexpected injury, will they be able to get through the voices inside both their heads to be together?
Reese was always apprehensive about dating football players. She wanted nothing to do with them having grown up around their type. When Trent pursues her, she immediately puts up walls because of her prior knowledge of him. When she finds out the truth, she questions whether to let him into her heart or not. As they spend more time together, she gives her heart over fully. When Trent gets hurt, she realizes how much she cares for him. She wants what is best for him, but he doesn't necessarily see his life the same way.
Trent is very hardheaded and has always been focused on football. When he pursues Reese, he is still heavily focused on football even when he gets injured. When he interprets Reese's caring as her trying to get between him and football, he ends up hurting her in the process. He has to find the way to bridge the gap between his love for football and his growing love for Reese.
Overall, the book was so good! Definitely can't wait for the sequel! I loved that the issues started in the middle of the book, because it helped both Reese and Trent show growth. It showed them being real people instead of just moving past an issue quickly. I loved the way the book was written, because it was easy to follow and it made the reader yearn for more of them.
Book Info:

Publication: April 12, 2022 | Kindle | Never Say Never Football #1
Pro quarterbacks regularly face tough linemen determined to knock them down—but for one hotshot athlete, it was an infuriating blonde who stood the best chance of laying him on his back.
I was one of the top quarterbacks in the league, riding high after scoring a lucrative deal with the DC Rockets. Fans adored me, sponsors wanted me, and women, well, they were eager to date me. Except my life revolved around football, not falling in love.
Until I saw her.
I'd just scored the winning touchdown, sending the Rockets into the playoffs and ending the Virginia Thunder's season. I spiked the ball and basked in the fans' cheers. I'd done it. But then I took off my helmet and locked eyes with a gorgeous blonde.
She wasn't cheering. Instead, she stood with her arms crossed, glaring at me. I smirked and winked, hoping to soften her murderous expression. Except it had the opposite effect. Rather than smiling back, she lifted her hand and extended her middle finger before disappearing into the crowd.
That was unexpected.
After my press conference, I couldn't stop thinking about the woman in the stands. It didn't help that social media had turned our interaction into a meme, and then I found out that the beauty was none other than Reese Parker, granddaughter of Charles Reese, owner of the Virginia Thunder. Which explained her reaction… sort of.
I should prep for the playoffs, but all I wanted to do was convince her I wasn't enemy number one—and that scoring with me would be her best move.