Secrets of a Wedding Crasher by Katherine Garbera: Melody Conner is certainly keeping secrets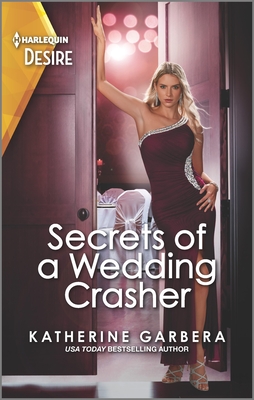 about the truth of why she crashed the destination wedding of two wealthy families in Nantucket. She needs to get Information on Senator Darien "Dare" Bisset for her employer. This could impact her future if she fails. Her looks and charm capture Dare's attention, even though she is considerably younger than he is. They fall into what seems to be a passion filled one night stand. Imagine Dare's surprise when he comes face to face with Melody once he returns to work. Will he be too mad to forgive her the lies she told or is there still an undercurrent of passion about to sweep them both away?
I have now read all three of the Destination Wedding series and this is, by far, my favorite. The novel concentrates mainly on the relationship between the hero and heroine. There is still some mention of the scandals in the Bisset family, but that has been pushed to the back burner. Romances that focus on the two involved in the love story are my favorites. The author makes this story one that revolves around the trope of rivals to lovers and that works perfectly to move the plot along smoothly.
Melody first comes off as very ambitious and driven. Underneath it all she is passionate, even if afraid of what a commitment could bring. Dare is in his thirties and is very resistant to any sort of commitment after seeing how his father has been unfaithful multiple times and how his mother kept big secrets.
Katherine Garbera has been writing for Harlequin for twenty-five years. That is amazing and I applaud her long time career and wish her continued success with her ongoing and newer fans.
Book Info:

Publication: April 26, 2022 | Harlequin Desire | Destination Wedding #3
When her secret agenda backfires, a power broker falls under the spell of her rival in this Destination Wedding novel by USA TODAY bestselling author Katherine Garbera.
She crashed the wedding of the season,
and collided with one very off-limits man…
Senator Darien "Dare" Bisset has something lobbyist Melody Conner wants—information. Infiltrating his family member's upscale Nantucket wedding seems like the perfect plan to get Melody what she needs. But when their encounter unexpectedly turns intimate, she can't resist Dare's worldliness…or his magnetic appeal. Walking away from Dare isn't up for debate—even knowing that if news of their tryst gets out, both their careers could be over.