In Love: In the Fast Lane (Carolina Bad Boys #2) by Rie Warren, we are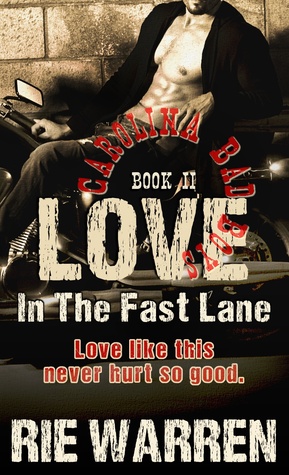 again visited by friends and family from Stone's book, We are introduced to our first taste of the Retribution MC, we meet new characters, same funny and light hearted love and laughter, along with angst and a beautiful HEA. This is Nick and Cat's story.
Nick Love is a paranomal romance writer, best friend of Josh Stone, Uncle Wicky to little JJ, has loyal fans, friends with the other "Hens" romance writers. He was left by his parents at the age of 16 after his older brother, Danial, OD'ed. Raised by his beloved Mimi, Nick is not looking for love. A good time, a little nookie, but nothing serious. That is until he feasts his eyes on the sexy, wildcat know as Cat Steele.
Cat Steele, co-owner of Chrome and Steele, along with her brothers Brodie and Boomer. Cat has a dark past, secrets that she wants to remain hidden. Living with demons every day, Cat does her best to make it day by day. When the handsome Nick Love has her turning her head for a second look, it could cause Cat's carefully constructed world to turn on its side.
When the secrets that Cat has tried so hard to hide, the guilt and hurt that she has tried to move past come back full force, it will cause problems for Nick and Cat. With the help of Cat't brothers, Josh, Leelee and the gang at Stones garage, these two love birds might just be able to take flight.
I loved the connection between Nick and Cat. Their lives are so very parallel to each other. The secrets and the past that might just pull them apart, in the end, draw them closer. They understand each other in a way that no one else can. Both fighting demons, they find comfort and acceptance in each other. The chemistry between them was RED HOT and the humor of the Steele brother, Josh, the Hens, the garage gang and little JJ was so up lifting. I truly enjoyed this story and give it 5 super stars.
Book Info:

Publication: December 11th 2014 | Rie Warren | Carolina Bad Boys #2
Rie Warren gives readers a bad boy bachelor and a tattooed vixen in this hot new release from her steamy southern series.
New York Times bestselling paranormal author, Nicky—Nick—Love is anything but successful in love. For years he's lost himself in his writing career, but now he's ready to get back to his rebel-boy roots. While restoring a motorcycle at Stone's Auto Service, he meets the Wildcat of his dreams. She's a shock to the system for the romance writer who doesn't remember a damn thing about wooing a woman.
Cool-as-ice, Catarina "Wildcat" Steele is utterly untouchable until Nicky ignites a spark she can't control. Their electric attraction explodes as Nicky pursues her, but he comes bearing the baggage of a family tragedy he's hidden from everyone. He knows love has no guarantees.
Their passionate romance falls apart when Nicky discovers Cat's secret rivals his own. The truth about her past reopens Nicky's raw wounds and awakens a ghost he never laid to rest. He doesn't know how to have Cat, and now he can't trust her. Will they be torn apart . . . or tamed by love?