In The Lady's Command (The Adventurers Quartet #1) by Stephanie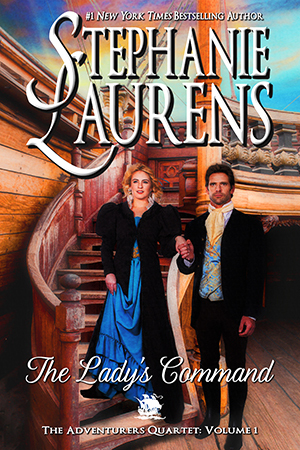 Laurens, A lovematch might not be the norm for entering into marriages in society's eyes, but Captain Declan Frobisher fell right away for Lady Edwina Delbraith and never looked back. As he's begun to understand the workings of her beautiful mind, he's realized that she has a definite steely resolve along with a heart longing for adventure–just like himself. So as Declan enters into another seafaring journey that may prove to be quite dangerous, he intends to keep his bride safe at home. But she just may have other thoughts on the matter, much to his chagrin.
'He understood her, and heaven help him, she understood him. The questing of the soul that lay at the core of any adventurer was something they shared. That the duke's daughter he'd chosen to marry would, underneath her golden glamour, prove to be as adventurous as he… Well, Fate was no doubt cackling herself into fits.'
Edwina is sure she can make a match between herself and Declan work to both their advantage. He sets out on several trips a year captaining The Cormorant in his family's business and she expects to make some of those trips with him. As well, she realizes she can help his family come to a favorable light in the eyes of the Ton. Falling in love with the handsome man was just icing on the cake. They are of a like mind in most matters except for her safety. Edwina's resolve is stronger than most duke's daughters so she sets out to prove that she can hold her own on an adventure abroad without losing sight of their new loving relationship.
'The ship of marriage–theirs, at least–was patently going to take time, effort, and shared understanding to find untrammeled winds and an even keel.'
The Lady's Command was a seductive historical romance that took readers on an adventure across the open sea and in a foreign land. Intelligently written and with beautifully detailed storytelling, I think Stephanie Laurens has a new hit series on her hands.
This ended up being a very different romance than I thought it would be when I first began reading. Not in a bad way. In a very good way, actually. I thought with how the inner thoughts of our two main characters started off that this would be a story about manipulation and power plays in their relationship. I suppose to a certain extent that did occur, but I was happy to see that there was a solid foundation in Edwina and Declan's marriage and that it was built on mutual respect and complete adoration. *dreamy sigh*
It was nice to see two smart and very strong characters paired together. Edwina had a quick mind and was able to use her intellectual prowess not only to move easily within the workings of the Ton, but she was a huge help to Declan on their mission. I really enjoyed watching Edwina as she realized just how deeply in love she truly was with her husband and to see her blossom as a passionate woman. Her family's story was also an interesting addition to how her relationship with Declan went, and the scenes where they were all interacting were so much fun.
Declan himself was a savvy adventurer who similarly was caught by surprise with the depth of his feelings for Edwina. He was such an upstanding man, with genuine loyalty for his family and the business he found himself born into. I thought Laurens did a great job of showing the progression of Declan's emotions, just like she did with Edwina. But seeing him figure out that his wife could easily manipulate him into doing just about anything, and that he truly wouldn't really mind as long as she was safe, was eye-opening for him and pure entertainment for me. I loved the scenes where he was on the ship, being the captain he was meant to be and the lovely descriptions Laurens used. It felt like I was right there on the main deck with all of the characters.
If you enjoy historical romances that are true escapism as they take you on a wild but passionate journey, The Lady's Command is for you. There was action along with deception and bad dealings to sort through, as well as tender romance and the joy of family and friends. Definitely recommended.
Book Info:

Publication: Expected publication: December 29th 2015 | Mira | The Adventurers Quartet #1
The instant Captain Declan Frobisher laid eyes on Lady Edwina Delbraith, he knew she was the lady he wanted as his wife. The scion of a seafaring dynasty accustomed to success, he discovered that wooing Edwina was surprisingly straightforward—not least because she made it plain that she wanted him as much as he wanted her.
Declan's vision of marriage was of a gently-reared wife to grace his arm, to manage his household, and to bear his children. He assumed that household, children, and wife would remain safely in England while he continued his life as an explorer sailing the high seas.
Declan got his wish—up to a point. He and Edwina were wed. As for the rest—his vision of marriage…
Aunt of the young Duke of Ridgware and sister of the mysterious man known as Neville Roscoe, London's gambling king, even before the knot was tied Edwina shattered the illusion that her character is as delicate, ethereal, and fragile as her appearance suggests. Far from adhering to orthodox mores, she and her ducal family are even more unconventional than the Frobishers.
Beneath her fairy-princess exterior, Edwina possesses a spine of steel—one that might bend, but will never break. Born to the purple—born to rule—she's determined to rule her life. With Declan's ring on her finger, that means forging a marriage that meets her needs as well as his.
But bare weeks into their honeymoon, Declan is required to sail to West Africa. Edwina decides she must accompany him.
A secret mission with unknown villains flings unexpected dangers into their path as Declan and Edwina discover that meeting the challenge of making an unconventional marriage work requires something they both possess—bold and adventurous hearts.