In Love is a Battlefield (DreamMakers #2) by Vivian Arend and Elle Kennedy, Jack is a former army ranger now in the dream making business with friends Parker and Dean. These alpha men have found their niche in everything from organizing dates to romantic celebrations on a larger scale.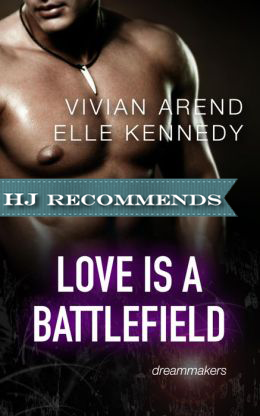 Jack has always seen Pepper as his friend Parker's little sister. With a caring but over protective family, when she tries to hide, it is Jack who takes her home and gives her a temporary place to stay. Suddenly Jack is seeing a lot more of Pepper than he ever imagined, and feeling a lot more too. Pepper has felt an attraction to Jack for years. He's never noticed her much before, and she's going to take every opportunity this time to make see her all grown up and wanting him.
Soon they can't not give in to the wild attraction and the temptation of being with each other. As hot as the chemistry is and as great as the sex is, it is about much more than that. When Pepper is out of hiding and Jack comes clean with Parker about his feelings for his little sister, they not only are playing together, they might be working together also. Can they make a future together too?
Love is a Battlefield is a fast paced, very well written addition to the DreamMakers series by Vivian Arend and Elle Kennedy. Jack and Pepper have a really hot connection, and I really felt like I got to know them both well. Jack is such a protective, alpha male and I can totally picture him in my mind. His protective nature really stands out when unexpected situations arise that threaten the woman he's starting to love. Pepper is fun loving and not afraid to go after who she wants! I liked their relationship and their interactions. Jack and Pepper fit so well together once they gave into the attraction that I couldn't help but hope they got their HEA. Both of them are comfortable in their own skin – who they are and what they want, and I loved this! Vivian and Elle have made Jack and Pepper people you'd like to know.
There are some great secondary characters in Love is a Battlefield. We get to see more of characters from All Fired Up (DreamMakers #1), getting to know the three men a bit more, as well as new characters unique to Jack and Pepper's story. Vivian and Elle manage unexpected character surprises and plot twists that are smoothly written into the plot, pulling you in even more.
Love is a Battlefield is the second book in the DreamMakers series by Vivian and Elle. I'd recommend reading All Fired Up first just to get a better idea of the set up of DreamMakers, but if you don't you will soon figure it all out. Equally entertaining (at times hilarious!) and passionate, with a hint of intrigue and suspense, Love is a Battlefield is a hot romantic read that I'd recommend to all romance readers.
Book Info:

Published July 22nd 2014 | (DreamMakers #2)
Years ago it was far easier for Jack Hunter to keep his hands off his best friend's little sister. Before they'd signed up and done a couple tours of duty, Pepper Wilson had been nothing more than an annoying tag-along brat. Only now that he's back for good and working to make DreamMakers a success, Pepper's home from college and determined to push his every button.