Only the Brave Try Ballet by Stefanie London: Not only has Jasmine been burned, a lot of that had been done by her own flames. The reason she was stuck giving "lessons" to Grant Farley in the first place was her own damn fault. And while she needed to pay the bills, she was having a difficult time justifying having him around. Normally she wouldn't hesitate guiding a student into position, but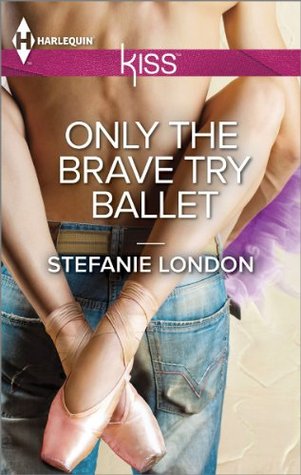 every time she touched him – well, that sort of heat can only lead to trouble.
Grant's no stranger to his own set of self-inflicted wounds, and not just the ones that were healing thanks to Jasmine's ballet classes. He'd done irreparable damage to many of the relationships in his life, and there just wasn't any coming back from that. But something in this woman called to him. She was different. She didn't look at him with dollar signs in her eyes, or with the thought of being in the spotlight. In fact, she challenged him at every turn, and dished it out even before she could take it. He liked it – yep, he liked it a whole lot.
Then something strange happened… they started to actually *like* each other. Neither one of them had ever opened up to anyone about their pasts, and seeing that in each other made them kindred spirits. Of course, they sparked like crazy too – and it wasn't long before they had to confront that as well, but they were both adults – they could handle an attraction as long as they were upfront about it, right?
As long as Grant and Jasmine both agree that they want the same thing what could go wrong? Yeah, keep telling yourselves that. That's when the fun starts.
Man, what a fun book! Mind you, it wasn't all hearts and flowers – there were some pretty deep subjects tackled, but getting there was a great ride!
Grant was rehabbing from an injury (not much detail, but also not necessary), and he put on a rather firm mask in front of Jasmine. He wears a different one for her than for everyone else however – especially after a little time in her presence.
Jasmine is a bit different. Hers just slips a little bit more each time she talks to Grant – until she lets it go enough to let him in. She doesn't tear the walls down completely until the very end of the book, but it's understandable given her past and then what happens to mirror that with Grant.
One of the things I adored was that even after they took a break, Grant reminded her in such a lovely way that he was still thinking about her. Even though Jasmine and he had already taken steps to heal, she had impetus to approach him again, and it all came together very sweetly with a satisfactory ending that left me with a big grin on my face.
So well done Stefanie! I can't wait for more of your work!
Book Info:

Published July 1st 2014 by Harlequin KISS
Step up, Grant Farley…not your typical ballet student!
Football pro Grant Farley is nursing an injury and needs to get back into shape fast. Ballet wouldn't be his first or even his last choice, but he's desperate. Enter tantalizingly prim teacher Jasmine Bell one disapproving arch of her eyebrow and Grant knows he'll enjoy getting her tutu in a flutter!
But it's not only Grant's flexibility that Jasmine's pushing to the limit! He knows she feels the heat between them, so why won't she give in to it? Time to convince Jasmine that if she's brave enough to dance en pointe she can certainly handle a fling with him!