In Love, Lies, and British Spies by Selena Laurence, American interior designer Eva Anderson's engagement went terribly awry, now she has met the man she believes is the man of her dreams, London's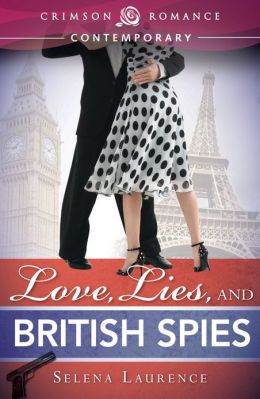 handsome, charming and talented musician Owen Martin. Luckily for her he has also fallen head-over-heals for her.
All seems sun and roses for Owen and Eva, who went on a whirlwind romance and eventually got married. Unfortunately, one day Eva gets kidnapped and is being used to get secret information from Owen.
Owen Martin is a British spy, an agent for MI6, something he forgot to mention to his now wife Eva and that she finds out during her kidnapping. And a fact that will put their marriage in danger for Eva has decided to give Owen a taste of his own medicine an joins MI6 becoming an agent herself.
Now Owen will see for himself that what he believed he was doing for the best, was not the same as how Eva saw it from the other side. Good thing that he has good friends, because they have sent Owen and Eva on a fake mission in order to help them reconcile.
This is a fun and fast read that will leave you wanting more. It is fast paced, romantic and not your usual run-of the-mill romance story of boy meets girl. For with secrets, adventure and a great romance in the line it will keep you hooked happening what happens next. I can't wait for the next book and hopefully find out what happens when Eva and Owen finish their fake mission. Don't miss Love, lies and British Spies by Selena Laurence.
Book Info
Publisher: Crimson Romance (April 22, 2013)
Yellow Rose Finalist, #1 on Goodreads Romantic Comedies To Read List
After an engagement gone terribly awry, American interior designer Eva Anderson has finally met the man of her dreams. Handsome, charming Owen Martin is one of London's most talented musicians, and he's head over heels for Eva to boot. They fall in love, get married, and go on a fabulous honeymoon to Paris.
But Owen forgot to tell Eva one little detail: he's actually a top secret British spy . . . oh, and there are more than a few women in his past. Unfortunately for Eva, one of those women is the beloved younger sister of Middle Eastern terrorist Hassam Khalil. Hassam wants nothing more than revenge on Owen for defiling his sister, so he kidnaps Eva.
Owen rushes to the catacombs of Paris to rescue his new bride only to discover that she's learned all of his worst secrets and wants nothing more to do with him. From the teashops of London to the cafes of Paris and the ports of Alexandria, Owen and Eva encounter terrorists run amok, friends with the best of intentions, guns, fangirls, and espionage galore. But, will love ever be enough to overcome the lies of this British spy?
Sensuality Level: Sensual