Love on a Deadline by Kathryn Springer: Mackenzie Davis works as a reporter for a weekly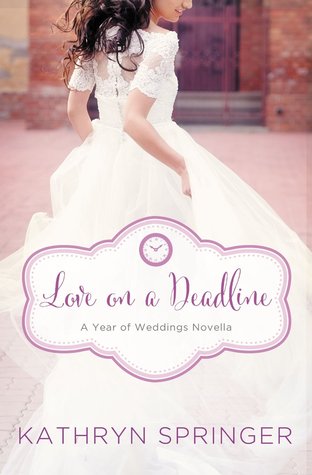 newspaper in her hometown. She returned home after her father's heart attack. She is assigned a wedding piece about Hollis Channing and Connor Blake, a famous actor.
Mac isn't thrilled, Hollis' brother Ethan broke her heart. Ethan, now a doctor, is back in town taking care of wedding preparations for his sister. He tells Mac that in exchange for her help with the wedding she will get her story, a win-win situation. They spend more time together, not as the kids they were, but the adults they are now. There is a fun football sequence with the kids in town. Mac and Ethan reconnect and bring a new energy.
"Over the past few days, Mac had tried to convince herself that what she felt for Ethan was nothing more than nostalgia. The embers of a schoolgirl crush she'd had on the boy next door. But as Ethan deepened the kiss, Mac wasn't thinking about the past. She wasn't thinking about dances and football games and all the times she'd been tongue-tied and blushing in Ethan's presence."
Love on a Deadline is a sweet story. This is a warm and comforting read. There is an element of Christian romance here which isn't usually what I read, but it wasn't overwhelming. Ethan and Mac were both likeable characters and I was rooting for them to end up together.
I would recommend Love on a Deadline by Kathryn Springer to those wanting a quick, sweet read.
Book Info:
Publication: July 28th 2015 | Zondervan | A Year of Weddings 2 #9
Meet the people who make it all happen—the planners, the photographers, the musicians who have helped orchestrate the perfect day for countless couples—as they find their own happy endings in the second Year of Weddings novella collection.
MacKenzie "Mac" Davis left her hometown of Red Leaf, Wisconsin, to pursue a degree in journalism. But when her dad, the town's beloved Coach Davis, suffers a mild heart attack, Mac returns home to help out. She takes a job at the weekly newspaper but instead of covering serious topics, her editor wants her to write about social events—like the garden club's flower show and the historical society's afternoon tea. Mac knows it's no way to earn her father's respect—or the attention of one of the newspapers she hopes will hire her when she leaves Red Leaf.
When Hollis Channing, Mac's high school nemesis, returns to Red Leaf to marry her celebrity fiancé, the editor asks Mac to cover the big event—and all the festivities leading up to—for the newspaper.
The last thing Mac wants to do is reconnect with the person who made her life miserable when she was a teenager . . . unless it's spending time with Ethan Channing, the bride's older brother—and Mac's first crush.
Mac is no longer the awkward girl who wore the school mascot costume to the Homecoming dance but she realizes something hasn't changed. Her feelings for Ethan.