Love on the Winter Steppes by Paris: Qara Whitaker is a driven workaholic with her job as a marketing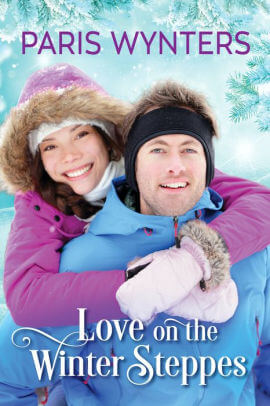 consultant. She has worked through holidays and other special events. She rationalizes that she must work this hard so she can care for her parents in the future. They sacrificed so much for her to go to college. She is frustrated that her younger sister is still living at home and working at being an online "influencer". When their grandmother, whom they call Emee, asks them to go to Mongolia to visit relatives, even Qara realizes her grandmother may not be able to make another trip back to her homeland and she agrees to go.
Ben Lacoy is headed to Mongolia to get inspiration for his second book. His deadline to get some of his manuscript in for his middle grade fantasy is drawing nigh. When he lands at the airport, he and Qara's family try to get into the same SUV cab. They decide there is plenty of room for them all. They are booked at the same hotel and Emee invites Ben on some of their tourist adventures. Ben is attracted to Qara, but is frustrated that she has her cell phone and takes calls in the middle of some events.
Ben came from a background where his parents put work first at the expense of family and he refuses to do that. Ben and Qara are certainly polar opposites in many ways. Can they learn to balance work and love and have a future?
Ben and Qara come across as authentic characters. It helps that alternating chapters are told from each others point of view. At times I wanted to yell through the pages at Qara. Not only was her boss not respectful of her vacation time, but the one client didn't even respect the time difference. At the same time, Qara was too afraid to not answer her phone.
Emee is the grandmother everyone would love to have. Rose may not have a traditional job, but she has learned to balance her life.
The best part of reading this lovely novel was the immersion into a country and culture that I knew nothing about. After reading about the food and all the places that the characters visited, I was amazed at the amount of research the author must have done. Of course, I wanted to learn more and online searches told me lots about the country and the history.  I highly recommend this tale of love and family.
Book Info:

Publication: January 5, 2021 | Tule Publishing |
Marketing consultant Qara Whitaker loves her job, happily putting in endless hours and working through holidays. But when her grandmother asks that she accompany her on a birthday trip to Mongolia to visit their family, Qara can't say no. Packing up her laptop, Qara boards the plane—never imagining that a shared cab ride with a stranger will change her life forever.
Hoping to push through writer's block, author Benjamin Lacoy hops on a plane to Mongolia looking for inspiration. A chance meeting with a beautiful and intelligent woman whose smile ignites his heart leads to them playing tourists. Sparks fly and Ben is feeling far more than inspiration, yet each time he and Qara get close, she's distracted by work.
Ben is torn; he likes Qara, but he always promised himself he'd never let work come before family and friends like his parents did. Opposites clearly attract, but can they learn to balance work with love in order to build a future together?