Operation Valentine by Sarah Fischer and Kelsey McKnight: Natalie Keller, known to her friends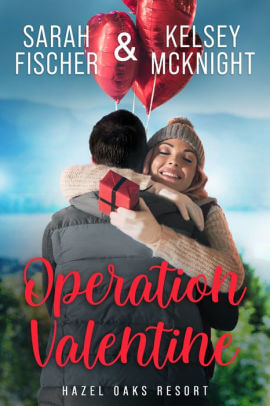 as Nat, loves her job as the Head Concierge at the luxurious Hazel Oaks Resort. In fact, she has worked at this location all her adult life. She plans to make this her permanent location.since she moved a lot as a "military brat" in her childhood. She is so organized with her color coded planners and attention to every detail, that she borders on being a bit OCD. Her job is her life and she hasn't made much time for a social life. She does have a best friend who is the chef at the resort who nudges her to get out of her "comfort zone".
When Mr. Sutton, the big boss of many resorts including Hazel Oaks, shows up she is nervous. She calms down when he asks her to take on a project for him to try to keep his longtime friends from getting a divorce. Even though this challenge to bring new romance to the couple, Nat feels this is something she can do. She becomes a little less enthusiastic when she finds Lead Adventure Coordinator Hudson Dougal has been paired with her.
Hudson is the polar opposite of Nat. He is very laid back and doesn't "sweat the small stuff". He has wanderlust and never wants to stay in one place too long. He is hoping if he is successful on this Operation Valentine he can get a higher position and move to California and away from upstate New York.
I can relate to Nat. I spent 12 years of moving around as an"Army brat". Although it enhanced my world view, it was very difficult to leave friends behind. Books saved me and kept me going when adjustments were hard. Nat organizational skills are good, but she goes overboard sometimes. In life, you have to learn to live with a little clutter.
Hudson is a handsome, kind man, but it seems he is more worried about his next move than settling down and having permanent friends. Both he and Nat are close to Terry who is a great secondary character with her gift of sharing kindness with her delicious food.
This is the first in a series. I am curious to find out whose story will be told next.
Book Info:

Publication: January 25, 2021 | Tule Publishing | Hazel Oaks Resort #1
She's determined to play Cupid, but will her arrow go astray?
Nat Keller has worked at upstate New York's Hazel Oaks Resort her entire adult life, dedicating herself to the lakeside lodge she considers home. After moving constantly as a child, planting roots and showcasing her organizational skills as the resort's Head Concierge is her dream job. When she's tasked with helping a married couple rekindle their romance, she's excited to prove herself until she learns she'll be working with a partner.
Lead Adventure Coordinator Hudson Dougal has never stayed in one place for long. He's worked at Hazel Oaks for nearly a year and is contemplating his next big move when he's asked to work with the only woman who seems to be immune to his charm. Always up for a challenge, Hudson accepts.
Soon, Nat and Hudson are igniting more than just a stale marriage. But just as Hudson wonders if roots have a purpose, he receives another opportunity. Will love be enough of an adventure to convince him to stay?