V Is For Valentine by Jeannie Watt: Felicity Evans has an important job as an investment banker in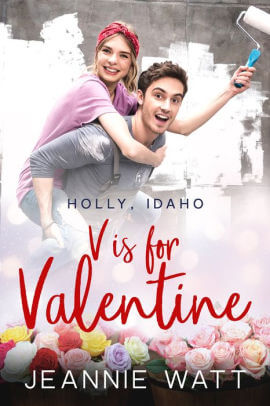 Seattle. When she learns of her father's injury, she travels home to Holly, Idaho to help finish an important renovation construction project that he must have done by Valentine's Day. Felicity's current job maybe mainly a white collar job, but she has construction skills from helping her father in younger days. As if things weren't bad enough, she finds her father's assistant has quit and Felicity know there is no way she can complete the job on her own. As much as she hates it, she accepts help from Danny Montgomery.
She and Danny have been "frenemies" since they were four years old and grew up next door to each other. Their pranks on each other continued through high school. They have avoided each other in recent years. Danny has gone on to new pursuits, but still remembers how Felicity's father helped him in the past and feels a debt he can repay by helping.
Danny sees "Felix", his nickname for her, in whole new light. Felicity has been burned before and she doesn't want any relationships now, especially when she must stay at her current job for at least two more years. Can Danny and Felicity have a future or will past hurts and distance kill any chances for love?
The author gives just the right amount of background for readers to understand where each of the characters are coming from. You can see why Felicity is so set against romantic relationships.Danny doesn't always hide his feelings toward Felicity, but he is good about keeping other secrets.
I was impressed by the construction details interspersed throughout the book. It shows a good deal of knowledge and/or research by the author. I am always upset with "book snobs" who look down their noses at the romance genre. So much goes into to the writing of a truly good one.
I am jealous that the two characters grew up together, since that wasn't my life and not for many in the days of a more mobile society. It does give a feeling of warmth that people can thrive in a smaller town atmosphere and go on to special goals.
The title works perfectly for this cute story as the reader finds out near the end. A Valentine story is good for any time of the year.
Book Info:

Publication: February 2, 2021 | Tule Publishing | Holly, Idaho #3
Three weeks to win her heart…
Investment banker Felicity Evans returns home to Holly, Idaho, to answer her injured father's SOS. He needs her to help him meet his construction deadline on a historic property by Valentine's Day. Felicity swings a mean hammer, but her life is in Seattle and she's leaving as soon as the project is finished. One problem with her quick escape plan? Danny Montgomery. Years after moving away, he still complicates her life despite her many efforts to forget him.
For as long as Danny Montgomery can remember, Felicity Evans—Felix to him—has tied his heart in knots. She's spent years avoiding him after their childhood rivalry, but, short on help, has no choice but to hire him to help her finish renovations on a keystone project for her father. This time, Danny won't let her ignore her true feelings.
He has until Valentine's Day to make her his. Can he convince Felix to give them one more chance and prove they're a perfect match?