Luck and Last Resorts by Sarah Grunder Ruiz: After a life-altering gymnastics injury and finding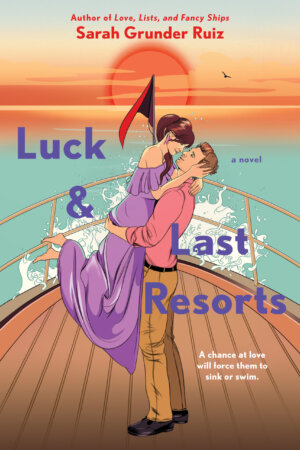 out that her dad's gambling addiction had obliterated her credit, Nina Lejeune wanted a way out. When she found out about a job as a stewardess on a yacht, she just showed up hoping to talk to the owner about the job. The first person she meets is Ollie Dunne instead, who thinks she doesn't have what it takes to be on a yacht. Both are surprised when she is given the job by the captain.
As the two of them spent years working together on the boat, they bonded and shared their lives with each other. When Ollie was almost deported, they decided to have a hush-hush marriage to get him a green card and so that Nina could get an apartment finally. Even though it was a marriage of convenience, they found sparks blossoming, but it was always a secret to everyone. When Ollie abruptly left the yacht for a restaurant job, Nina was left with only the rest of the staff and a lot of questions.
Fast forward years, Nina is shocked when Ollie is announced to once again be the chef on the yacht. She's even more thrown when Ollie gives her the ultimatum of admitting she loves him by the end of the yacht season and give their marriage a chance or to move on and divorce. Not knowing what to do, she tries to keep him at arm's length, but all she wants to do is give into the passion simmering.
While the two dance around their issues, Ollie tries to wear down Nina's defenses. When he finally convinces her to go on an actual date with him, he thinks he's won. When she admits that she loves him, he's even more convinced. For Nina, she knows that she loves Ollie, but it took big steps to say the words aloud and now she doesn't know if she's ready to take the next steps. With her friends and Ollie by her side, she has to learn how to trust again that she won't be duped like her parents did to her.
Nina went through a lot before she hit adulthood. When she found out about her dad's gambling addiction and the impact that it had on her life, she loses the sense of trust for pretty much everyone in her life. She started to rebuild trust with her friendship with Ollie, but she's wary of letting him in too close. As he wears down her walls, she gets scared and tries to put some distance between the two of them, which he interprets as not wanting him anymore. With this second chance, Nina has to figure out how to let her walls down and show her love for Ollie to the world.
Ollie had a rough family life growing up which is how he ended up in the US to begin with. After dealing with an abusive father, he tries to get his family out of the situation, but his mom is unable to make the leap and stays back. In his eyes, he's acting just as his mother when Nina won't show the actual commitment to him. He wants to a final answer about Nina and that's what prompts the ultimatum. When Nina still needs time, Ollie has to figure out how long he is willing to wait for her to make a decision.
Overall, the book was beautiful! Ollie and Nina both had pasts that caused them pain in their families and have a hard time knowing what to do in relationships. As they learn together, their bond is so strong. I loved the way they interacted with each other and how they were able to help each other work through their issues. Their group of friends is memorable as well and function as the family unit that they were missing in their lives. As they lean on them as well, they find out what they want in life and what they're willing to do for it. Such a great read that brings every emotion to the forefront as you're reading.
Book Info:

Publication: August 9, 2022 | Sarah Grunder Ruiz | Love, Lists & Fancy Ships #2
They have a second chance at love, but there are some rough seas ahead in the new contemporary romance from the acclaimed author of Love, Lists, and Fancy Ships.
Commitment-phobe Nina Lejeune lives by two rules:
1. Always have fun.
2. Don't rely on anyone but yourself.
The first rule is easy; the second, she's only broken once.
Ten years after fleeing home, Nina is the chief stewardess on the super yacht Serendipity, single by choice, and perfectly content with how life has turned out.
But Nina's ex-coworker and old flame, Irish chef Ollie Dunne, isn't so happy with the status quo. One year after leaving yachting, he's returned as the Serendipity's chef with an ultimatum: if Nina continues to deny she's in love with him by the end of this charter season, he'll go back to Ireland for good.
Nina and Ollie's shared secret from their past threatens to shipwreck not only their relationship, but the entire boat. But as their connection grows amidst chaotic guests and crew drama, could there be smooth sailing in their future?