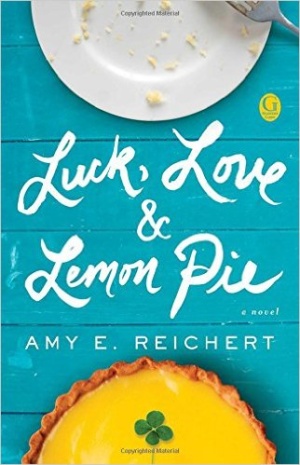 In Luck, Love & Lemon Pie by Amy E. Reichert, MJ Boudreaux knows there was a time when she felt fulfilled as a wife and mother; felt like she was contributing to her loved one's lives, but lately those days seem so far back she can't remember them. And sadly, she's not really sure she cares anymore. Ambivalence is not a good thing when it comes to marriage, MJ is sure, so she looks for a way to get back what she had with her husband Chris before it's too late. And she thinks poker, his favorite hobby, just might be the key.
"Maybe the problem isn't the lack of time with Chris. Maybe I need to do something for myself. I can't rely on him to make me happy. I need to make me happy."
But it soon becomes clear that poker is not the wake-up call for her marriage that MJ hoped it would be. Although it does give her something to concentrate on while the rest of her family seemingly ignores her. MJ's talent for the game eventually puts her in the big leagues and in the presence of Irishman Doyle Kane, who is a big shot player–in every sense of the word. The attention he willingly gives her makes her feel alive for the first time in forever. When Chris finally starts to pay attention to the situation, their problems come to a head. Then MJ is in for the fight of her life to prove how sincere she is in her love and devotion to her marriage and her family.
'Doyle's flirtation in the last two days was more attention than she'd gotten from Chris in the last five years. Sometimes, it was just nice to be asked to dance, even if you had no intention of saying yes–and Doyle was definitely asking.'
Luck, Love & Lemon Pie was a pleasant surprise. A novel about one woman's struggle to save her marriage while finding something constructive to occupy her lonely days, author Amy E. Reichert was able to infuse hope and remembrance into what could have been a bleak story.
I'm usually torn when I read this type of book. Torn between the romantic in me wanting to see a longtime relationship work itself out in a positive manner, and yet knowing that sometimes things have gone too far to be reconciled by the time the couple in question realizes there's a problem. In this case, I was worried I would get frustrated with the choices MJ and Chris made and would feel disconnected from them. But the way they were presented here actually cast them (eventually) in a hopeful light. Even as MJ and Chris made decisions that pushed them further apart, there was still love between them that didn't dissipate.
Some of my favorite parts were the moments when MJ talked things out with her close friends Lisa and Ariana and while she reminisced about her history with Chris. Those moments brightened the story and added a punch of much needed laughter. And seeing how MJ's relationship began with Chris was very sweet, while it also showed her just what she would have been giving up if she had let things end without a fight. I think that was when things took a turn for the better. When MJ started remembering what it was that made her fall for Chris the first time, so she was able to move past her feelings of loneliness and disillusionment. That's also when I really started to fully connect with MJ.
Now even though there was another male character involved in the story, Doyle Kane, I didn't think of this as a love triangle. Sure, there were flirtatious moments and times where MJ was almost tempted to see what could happen, but the way this was written, I never truly got a sense that things would get *too* out of hand. Okay, so there was a 'prop bet' that got a bit carried away which later came back to haunt MJ, but I was fine with the way things with Doyle worked out. Everything was complicated for a while, but I liked that she put in the work to fix things once she set her mind to it.
A quick read that had me hoping it would end well for our heroine MJ, Luck, Love & Lemon Pie kept me interested the whole way through. I think fans of chick lit and romance alike will enjoy the journey Amy E. Reichert takes us on in her latest heartfelt novel.
Book Info:
Michele H| 4 Stars | HJ Recommends | No |
Publication: Published July 12th 2016 | by Gallery Books |
From the author of the "clever, creative, and sweetly delicious" (Kirkus Reviews) The Coincidence of Coconut Cake comes a novel about a frustrated wife and mother who hatches a scheme to reignite her marriage—and risks everything in a gamble she hopes is a sure bet.
When Milwaukee-area wife and mother MJ Boudreaux notices her husband Chris seems more interested in the casino than her, she's more bothered that she isn't upset than by her husband's absence. She picks up poker as a way for them to spend more time together—and reignite their marital flame.
Although the game doesn't give her the quality time with Chris that she'd hoped, MJ finds she has a knack for it. Increasingly unhappy at home, she turns to the felt top of the poker table for comfort. Intoxicated with newfound freedom, MJ begins spending more time at the gambling tables and less with her family, finally carving out for herself a place outside her role of wife and mother.
After a string of great wins, MJ finds herself in Vegas, attracting the attention of a certain magnetic poker star. But when she's forced to choose between her family and her new exciting lifestyle, the stakes may be higher than she thought and MJ will have to play her hand carefully…or risk losing it all.