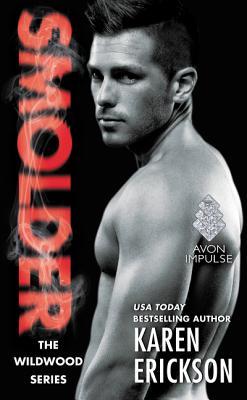 Smolder: The Wildwood Series by Karen Erickson: Lane is the responsible older brother. He's tried to protect his younger siblings from the realities of their home life and be there for them whenever they need it. But after watching his parents less-than-ideal marriage, he's determined to keep any relationship casual. Besides the poor example set by his parents, he's pretty much married to his very demanding job as a deputy sheriff.
Delilah loves her job as a dance teacher. She enjoys the freedom of owning her own studio and teaching the classes she wants. Her work life is just about all she could ask for. But she remains frustrated by Lane's refusal to act on the attraction that's been burning so hot between them for years. She's pursued, taunted, and tempted him to no avail. She knows that the attraction is mutual, but she has no idea of why he doggedly resists what could be between them.
"I didn't break in," she reminded him. "I know where you keep your spare key."
He chuckled, shaking his head. Well, at least he seemed amused. "Oh, and that makes it so much better."
"It's not breaking and entering."
Lane doesn't know how much longer he can honestly resist Delilah. Delilah's ex, who just happens to be his younger brother, isn't standing in the way of any potential relationship either. Delilah shows her own stubbornness and persistence in going after Lane when he always seems to run away from her. Their chemistry burns bright as the tension builds between them until Lane finally, finally can't fight it any more. But giving in to temptation doesn't mean that he's stopped running or ready for a real relationship.
"It sounds like an excuse, but I really was busy. But I was also…freaking out." He winced.
She stared up at him, startled by his admission. "What were you freaking out over?"
He didn't answer her question. "I've missed you." Leaning in, he rested his forehead against her. "A lot."
Smolder positively sizzles in this sibling's best friend romance. Karen Erickson builds the tension and anticipation with their every interaction. Ms. Erickson created interesting characters in the Gallagher siblings. Smolder can be read as a standalone book in the Wildwood Series. Fans of Tessa Bailey and Harper Sloan will enjoy Smolder.
Book Info:

 Expected publication: July 12th 2016 (first published June 14th 2016) | Avon Impulse | Wildwood #2
Lane Gallagher wants Delilah Moore—bad.
He's imagined the sexy brunette in his bed more times than he can count.
She's everything he's ever wanted, but the only problem is . . .
She's his brother's ex.
For years, the stoic sheriff's deputy has fantasized about the sweet, bubbly dance teacher who stirs his deepest desires. But Lane's too loyal to ever move in on forbidden territory and he knows that while he can look, he definitely can't touch. Fighting his attraction to Delilah is nearly impossible, but the infuriating—and incredibly sexy—woman seems determined to drive him crazy.
And she's bringing him to his knees. One smoldering kiss at a time.