Lucy Checks In by Dee Ernst: When Lucia is looking for a fresh start after being embroiled in scandal, she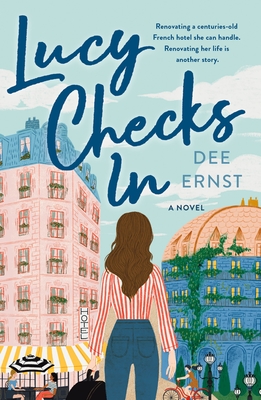 accepts a job offer to be a hotel manager in France. She expects to find a hotel with little touches needed to make it work, but instead she finds a hotel that needs everything fixed from paint to floors to the exterior. She questions whether or not she can handle it, but with all the residents helping out, she finds she wants to help them as well. When one of the residents, Bing, steps up to assist her more, she can't decide whether to avoid him because of his attitude or explore the heat simmering inside her.
As Lucy's time is spent in France, she learns more about herself and what makes her happy. She thought she was happy in the States in her job, but she finds that she likes the ability to put a stamp on the property in France. She also learns a lot about love from Bing. She tries to keep him at arm's length, because her boyfriend is who caused the scandal last time, but he keeps showing up. She has to learn how to trust her heart and her decisions in order to find success in France.
Honestly, I liked the book. If you want a steamy romance, this isn't it. It does have more than just a sexual romance tone to it. Instead of getting down and dirty, Lucy takes the time to build a deep friendship with Bing so that she can trust herself when she makes a decision about him. The cast of characters is memorable and, even though there are a decent amount, you really feel like you know them. I do wish that the book changed perspectives to Marie Claude though, because her secondary story was my other favorite, but I wanted to know her thoughts and decisions.
Book Info:

Publication: August 16, 2022 | St. Martin's Griffin |
Dee Ernst's Lucy Checks In is a delightful work of romantic comedy about a disgraced hotel manager who travels to Rennes to rebuild a hotel and her own life in the process…
Lucia Giannetti needs a fresh start. Once the hotel manager of a glamorous NYC hotel and intimately involved with the hotel's owner, Lucy had her entire future planned out. But when the owner disappears, taking millions of dollars with him, Lucy's life as she knows it falls apart.
Two years later, forty-nine years old and unemployed, Lucy takes a job in Rennes, France to manage the Hotel Paradis. She pictures fur quilts and extravagant chandeliers, but what she finds is wildly different. Lucy is now in charge of turning the run-down, but charming hotel into a bustling tourist attraction. Between painting rooms, building a website, and getting to know Bing, the irritatingly attractive artist, Lucy finds an unexpected home. But can she succeed in bringing the Hotel Paradis to its former glory?
Witty and heartfelt, Lucy Checks In is an inspiring and feel-good novel about reclaiming your life, finding love, and creating a home in places you never thought possible.