In Stern by Brenda Jackson, Jojo and Stern are best friends and have practically grown together.Short of her thirtieth birthday, Jojo realizes she has fallen in love with Stern-a man she considers off limits because of their friendship. To take her mind off him she seeks his help to attract the attention of another man namely Walter who is a jerk by nature.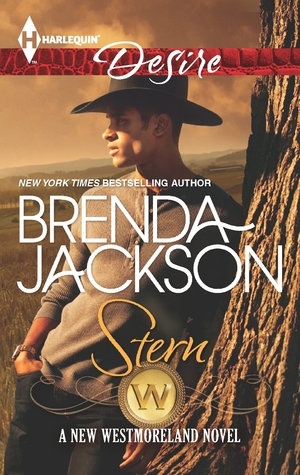 Stern is taken aback by her request and realizes he also has feelings for Jojo but nevertherless he decides to help her for the sake of their friendship. But their attraction is undeniable and it keeps on increasing as Jojo takes lessons from Stern on how to attract Walter. What turn would their relationship take with the unspokable desire between them..??
"Stern?"
It was only then that he realized he'd been sitting there staring at her. "Yes?"
"Is something wrong?"
He could come clean now and tell her that yes, something was wrong—he just didn't know what. He could also tell her he didn't want this Walter guy to come within five feet of her, but if she asked why, he wouldn't know what to tell her other than just because.
"No, nothing's wrong. I'm just trying to figure out why someone as beautiful as you are doesn't have men constantly knocking at your door." He pulled the band off her hair and then wound his hands into the dark strands.
She rolled her eyes. "Role-playing again?"
"Yes…" If that's what she wants to believe…
Stern was wonderfully written and although this is my first book from the Westmorelands series, it did not affect my understanding of the story, I would still want to read about the rest of the family members,who kept on popping time to time. The pace was medium with enough steamy moments to keep me interested and nothing was dragged too much. Stern was a likable hero with the usual hero like qualities but I found Jojo a too much naive character and would have prefered if she was a little mature in her decision. The story was smooth in its flow without any major conflicts between the characters.
Overall Stern is a good escapism romance where you don't have to use your brain and just go with the flow.Read this if you like the best friends falling in love theme and don't expect it to be realistic in any way.
Book Info:

Published September 3rd 2013
From New York Times bestselling author Brenda Jackson, comes a new trilogy starring three Westmorelands who are impossible to resist: Zane, Canyon and Stern.
Stern Westmoreland never makes mistakes until he helps his best friend Jovonnie"JoJo"Jones with a makeover for another man. Now Stern wants JoJo for himself. Their attraction is undeniable and there's only one way to test it: one long, steamy night together as much more than friends!