In Mad About Moon by Melissa Foster, Josie Beckley has been living in a shelter with her young son after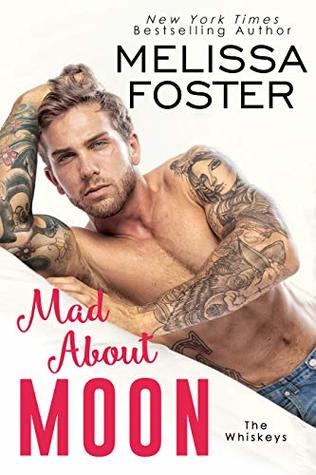 becoming homeless after her husband's death. Her estranged siblings, Sarah and Scott, who readers were introduced to in Wicked Whiskey Love, have been trying to reconnect with her. When she shows up at Sarah's house, the last person she expects to see again is Jed Moon, a man she had a one night stand with years ago but felt a deep connection with. Jed is surprised to see her as well, and is surprised to learn she's the sister of his cousin's girlfriend. While Josie is hesitant to reconnect with her siblings and let anyone into her life, Jed isn't about to Josie go again and is determined to give her a reason to stick around.
Just when I think this author can't create a book I love more than the last one, she goes ahead and proves me wrong. I absolutely loved Jed from the get-go. He makes it his priority to keep an eye on Josie and Hail to make sure they were safe. He helps her get a job. But mostly he is wonderful with Hail. The first time he meets him, knowing of his love of trucks, he brings him a present.
Hail snagged the fit and tore open the wrapping paper. "Mama! A truck!" He held the little green 4×4 up for her to see.
"Wow. That's a really thoughtful gift. You should say–"
Her words were drowned out by her boy as he launched himself at Jed, who was still kneeling, wrapped his arms around his neck, and exclaimed, "Thank you!"
He's continually sweet and thoughtful with the boy, as well as with Josie. He never pressures her to reconnect with her siblings, instead, he lets her go at her own pace.
Josie had grown up in an abusive family, and after Scott and Sarah left, she had become the target of her father's anger. Feeling abandoned by her siblings, she ran away with the man who would later become her husband. Things hadn't been easy for her, and it's easy to sympathize with her and understand why she was hesitant to reconnect.
It was great seeing all the Whiskey siblings again, and seeing how easily they welcomed Josie into their fold. Like their cousin Jed, they never forced her into reconnecting with her siblings even though they encouraged her to do so. They were all protective and supportive of both her and Hail.
This is the fifth book in The Whiskeys series, and while it can be read as a standalone, I do recommend reading Wicked Whiskey Love first. Josie was first introduced in that book, and it gives a little more background as to what the siblings had gone through, as well as Sarah's and Scott's efforts to get in touch with Josie again.
Mad About Moon is an excellent heart-warming second chance romance and a great addition to The Whiskeys series. Readers both new and old to the series are in for treat with this one.
Book Info:

Publication: April 10, 2019 | World Literary Press | The Whiskeys #5
Josie Beckley refuses to believe there is a limit on happiness. A decade after she escaped her abusive parents and lost touch with her siblings, the death of her husband leaves her and her son homeless. But Josie has never been one to wallow in sadness, and when she takes a chance on reconnecting with her siblings, a sinfully handsome bright light from her past shows up and offers to help her find a way out of the darkness.
Most people wouldn't see Jed Moon as someone to look up to. He's been in and out of jail and has lived a less-than-stellar lifestyle. But years ago one woman saw through his nonsense, and he's never forgotten her. Now she's back in his life, and as a prospect for the Dark Knights motorcycle club, Jed promises to keep an eye on the sassy, sexy single mother who has never stopped lighting his fantasies on fire.
Jed and Josie's combustible connection is stronger than ever. Having Josie and her son in his life brings out all of Jed's protective instincts-and visions of a future he never imagined having. But when a shocking revelation knocks the insatiable lovers to their knees, it forces them to make choices that could change their lives forever.